Composer Cenobio Hernández found his calling at 77 and spent the next decade making the most of it
Most everyone who remembers Cenobio Hernández is dead, but to glean an inkling of his life, listen to "Recuerdos" ("Memories"), a serenade whose key changes flicker between wistfulness and exuberance, between what was and what might have been.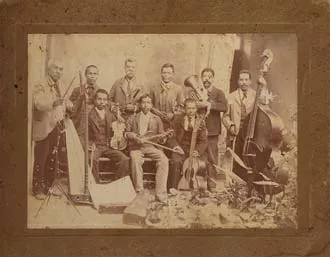 Cenobio Hernández (front row, far right) played bajo sexto, cello, and upright bass. After performing in orchestras for silent-films, he wrote music, most of which he produced in the last decade of his life.
Hernández died at his home on West Travis Street in 1950, but his music and legacy are documented in a film by his granddaughter, Veronica Hernández, and co-producer Joe Miraglilo. Through interviews with the few living relatives, rare sepia-toned photos, and Hernández' music, the film, which is still in progress, chronicles a life built on music: from his training in a Mexican conservatory to his tenure in a San Antonio orchestra that accompanied silent films, from migrant worker to composer, an avocation he did not take up in earnest until the last decade of his life.
As a coda, the film illustrates the family's musical bloodline: Grandson Cenobio "Bubba" Hernández won a Grammy Award as a member of Brave Combo and included a version of "Recuerdos" on their album No No No Cha Cha Cha. Ricky Hernández, born a year after Cenobio died, recorded his grandfather's compositions and released them on CD in 2002.
"I never knew him," says Veronica Hernández, who was born 13 years after her grandfather's death. "I wanted to give the music back somehow."
Hernández was born in San Luis Potosí in 1863, 16 years before Thomas Edison invented the motion picture. Hernández studied at a Mexican conservatory, where he learned cello, upright bass, and bajo sexto; his brother, Aniceto, studied clarinet.
In 1896, the 33-year-old Hernández married Herlinda, just 15. Meanwhile, in America, Edison hosted his first film showing at Koster and Bial's Music Hall in New York City with a program that included scenes from a prizefight, a dance performance, and waves rolling on a beach.
After the turn of the century, a French horn player with the San Antonio Symphony, Everardo Hernández Charles, was visiting family in Mexico when he heard about Hernández (no relation). Charles persuaded him to move to the Alamo City where, with the arrival of silent films, there were ample opportunities for trained musicians to perform pieces to accompany the pictures. With the Mexican Revolution raging, ("My grandmother had had enough," says Veronica) in 1915, Hernández moved his family to San Antonio, where they lived on Leona Street, next door to Charles. Initially, orchestra leaders were reluctant to hire him because he was Mexican, but after a brief return to Mexico, in 1920, Hernández secured a job with several theatrical orchestras at the height of the silent-film era. At the opulent Majestic, Rialto, and Palace theaters, orchestras performed - the musicians often sight-read the scores - to first-run movies such as Birth of a Nation, The Mark of Zorro, and The Phantom of the Opera. They also traveled to Houston and Beaumont to perform.
Cenobio Hernández wrote his music in pencil on brown bags, then once completed, transferred it in ink to manuscript paper. Hernández wrote this song "Rosario" for his granddaughter's birthday in June 1946.
"In the house, there was music all the time," says Veronica. "He was able to have a very middle-class life for himself."
Until 1927, when the first "talkie," The Jazz Singer starring Al Jolson, hit theaters, marking the demise of the silent film. With pre-recorded sound, the movies no longer needed live performances and hundreds of musicians, including Hernández, were out of work. When the Depression hit two years later, Hernández, already 66 and with seven children, had no choice but to become a migrant worker. He picked cotton, strawberries, and other crops in the South and Midwest, facing discrimination because he spoke little English. "Imagine those hands playing music," says Veronica, "and then picking cotton."
When he returned to San Antonio in the '30s, he worked as a transcriptionist in a local furniture store, listening to records and writing the music on manuscript paper for customers to buy. But transcribing others' work did not satisfy him, and at 77, when many people's lives begin to fade, Hernández' crescendoed. Although he didn't play piano, he wrote for the instrument, and from 1942-1948 his output was prodigious: 42 waltzes, 32 polkas, three one-steps, one schottish, one march, two danzas, one danzon, and two concertos for cello and piano. Driven to pour the music in his head onto paper, he grabbed brown bags and scraps of paper on which he used a ruler and pencil to draw treble and bass clefs and the notes. When no paper was available, he drew on his arm or his sleeve. He often paced the floor or meandered down the sidewalk in front of his home, as if in a trance. Eventually, when he had perfected the piece, he transcribed it in ink onto manuscript paper. "What was he thinking?"Veronica asks. "He just had to get it all down."
After his death at age 87, his music lay dormant in a wooden box in his daughter Chabela's closet until the mid-'70s when she gave Bubba stacks of manuscripts, brown bags, and scraps of paper on which Hernández had painstakingly written his compositions. Eventually, the compositions were handed down to Ricky, who plays piano. Many of them are also archived at Texas State University in San Marcos.
Long after Hernandez' death, the family gathered on Sundays and performed his music on piano, violin, and other instruments. "The women wore orchid corsages and there was the smell of Falstaff beer and the sounds of strings," Veronica recalls in the film.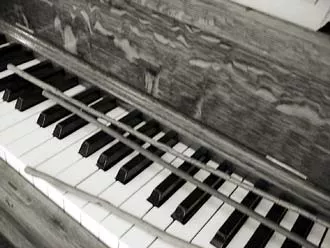 Hernández often broke branches off a tree and whittled them into batons, which he used to keep time during his children's piano lessons - or to rap them on the knuckles.
Hernández' music reached the masses via Brave Combo, whose record No No No Cha Cha Cha was a favorite of an Olympic skating coach. After hearing a version of "Recuerdos" on the album, the coach used an arrangement of it for a routine performed at the 1994 games by U.S. figure skaters Jerod Swallow and Elizabeth Punsalan. "After 50 years, the song shot around the world just like that," notes Bubba in the film. "I'm just running the ball for the team and passing it on."
Ricky learned and recorded 12 pieces on the CD Recuerdos Música para Piano por Cenobio Hernández. With its barreling double octaves, "Cecilia," heralded the birth of Hernández' daughter in 1942. Tumbling melodic scales celebrate "Elenita," and in the buoyant polka "Adelante," the left hand carries the oompah-oompah while the right propels the melody like a drunk driving a jalopy.
Yet, many of Hernández' pieces are somber, especially the waltzes "Hortencia," "Rosario," and "Decepciones del Alma" ("Deceptions of the Soul"), one of his last works written in 1948, whose foreboding minor keys hint at a sadness accumulated over a lifetime: Perhaps of Hernández picking cotton in the fields, separated from his family and the music that he loved.
"He's very good at conveying sadness," says Ricky in the film. He played with his band at local watering hole Howl At the Moon until moving to Los Angeles to embark on a screenwriting career.
Veronica, who recently retired from Southwest Airlines after 20 years, is beginning her life's second act with this film, her first documentary. "Many people in my family became creative later in life," she says. "This film is haunting me." •
By Lisa Sorg
For updated information on the film's progress, visit amanhismusicandhislegacy.com.