Sportswriter Dave Zirin argues that athletes should put the political punch back in professional sports
In her 2003 book, Shut Up & Sing, talk-radio personality Laura Ingraham excoriated celebrities for poisoning American society with their elitist political views. With the provocative What's My Name, Fool?: Sports and Resistance in the United States, Dave Zirin very nearly makes the opposite point: Arguing that sports in this country is inextricable from politics, he exposes the cowardice of today's millionaire athletes who dare not jeopardize their lucrative endorsement deals by questioning the establishment (yes, Tiger Woods, that means you).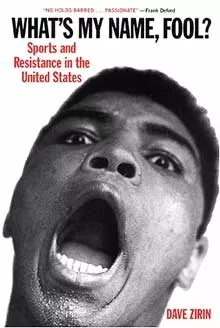 One of the book's strengths is that Zirin comes at his subject with a genuine love of sports. Early on, he quotes progressive icon Noam Chomsky, who describes sports as a waste of mental and emotional energy that "keeps people from worrying about things that matter to their lives." While acknowledging the way sports shields Americans from the harsh realities of their daily lives, Zirin parts with Chomsky on a crucial point. He sees our passion for sports as a powerful force that "can transform it from a kind of mindless escape into a site of resistance."
Zirin is fascinated with pioneering figures such as baseball-union organizer Marvin Miller, NFL radical Dave Meggyesy, and tennis feminist Billie Jean King. He is most engaging when he approaches subjects unfamiliar to most contemporary sports fans. His interview with Lester "Red" Rodney, a writer who brought sports coverage to the Communist Party newspaper the Daily Worker in the 1930s, is particularly fascinating. Rodney pushed Major League Baseball to integrate a full decade before Jackie Robinson broke the color barrier and bemoans the tragic loss of monumental talents such as Satchel Paige and Josh Gibson to baseball's Jim Crow practices.
Zirin also revisits the 1968 Mexico City Olympics, when sprinters Tommie Smith and John Carlos raised their fists in protest during their medal ceremony. An interview with Carlos reveals the tremendous economic obstacles he faced upon his return from the Olympics. Taking every imaginable menial job to provide for his wife and four children, Carlos occasionally would have to chop up furniture to make a fire so the family could stay warm. His wife committed suicide in 1977, an act he largely attributes to the pressures brought on by his post-Olympics pariah status.
Carlos also offers the best argument in favor of athletes speaking up about the pressing issues of the day. In response to the Ingrahams of the world, he says "Those people should put all their millions of dollars together and make a factory that builds athlete-robots. Athletes are human beings. We have feelings, too. How can you ask someone to live in the world, to exist in the world, and not have something to say about injustice?"
What's My Name, Fool?:
Sports and Resistance in the United States

Dave Zirin
Haymarket Books
$15, 304 pages
ISBN: 1931859205

Unfortunately, Zirin undermines his own credibility with an inordinate number of factual mistakes. He cites 2003 as the year of Johnny Unitas' death, when it was actually 2002. He writes that Muhammad Ali returned to boxing from political exile in 1971, when it was actually 1970. His most glaring mistake pops up in the book's title. Zirin recounts Ali's 1965 fight with Floyd Patterson, saying Ali responded to Patterson's use of Ali's birth name, Cassius Clay, by shouting "What's my name, fool?" While Ali had sharp differences with Patterson, his infamous taunt was actually directed at Ernie Terrell during their 1967 title bout. Such mistakes suggest that Zirin's political insights outpace his command of sports history.
But on the big issues, Zirin weighs in with intelligence and evenhanded grace. He notes that Michael Jordan's "Republicans buy shoes, too" mantra will keep him from attaining an Ali-like status in American culture, but he defends Jordan's right to be apolitical. Jordan's on-court exploits will forever tower over the sport of basketball, but Zirin is much more interested in people who changed the rules outside the lines. •