Air scooters could put the "rush" in rush hour
With the recent legislation banning motorized scooters and carts from San Antonio's streets and highways (direct thank-you notes to District 10 Councilman Chip Haass), what recreational vehicles can we dopamine-glutted thrillseekers play with, especially those of us who don't own extensive acreage in the Hill Country for zipping around in little pocket rockets? Here's a suggestion: Toys we can take to the air.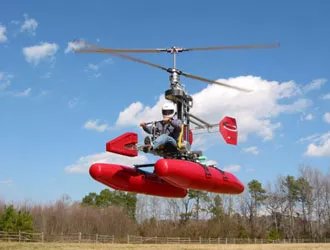 The AirScooter is a personal ultralight helicopter model designed by Lemelson-MIT prize-winner Woody Norris.
Several trendy "air scooter" brands are, or will soon be, on the market for those fearless individuals who want to push the envelope of Class D airspace, or, at the least, not have to motor around in San Antonio's congested and dangerous thoroughfares. Classified as ultralights, which must weigh less than 254 pounds without a passenger, these recreational flying vehicles range from the $50,000 AirScooter, an ultralight helicopter that is expected to debut on the market this year — and whose visionary inventor, Elwood "Woody" Norris, was awarded the 2005 Lemelson-MIT prize — to the $10,000 Ultralight Flying Scooter. The latter is currently on sale, and combines an actual motor scooter, the Honda Ruckus, with a flight-modification kit containing a paraglider wing and parachute.
Driving along I-35, you might catch sight of an Ultralight Flying Scooter gliding overhead, as a friend of mine did one day while driving in the Cibolo-Schertz area. "It was just winding along, following the interstate," she said, somewhat perplexed. Think about that as you inch your way down the Death Loop or whatever traffic-snarled concrete pavement/parking lot you utilize for your morning commute. Instead of trying to avoid bored commuters on their cell phones, all you'd have to avoid are power lines.
Until sky highways become a reality and we're all driving our own personal Chitty Chitty Bang Bangs, air scooters are solely meant as recreational vehicles and aren't allowed over congested areas. And they're not exactly practical vehicles for everyday travel. The Ultralight Flying Scooter, for example, seats only one person and looks like a tricycle strapped to an enormous oscillating fan. The outfitted scooter isn't allowed on highways, as it can't reach highway speeds, and it can't deploy flight gear at speed (you have to physically unfurl the canopy in the flight kit before lifting off) — but hey, one can dream.
The Ultralight Flying Scooter, above, combines a paraglider wing and parachute with a Honda Ruckus motor scooter.
Ultralight vehicles are particularly interesting for the average thrill junkie on (or should I say off) the street, since you don't need a pilot's license in order to fly them, nor do they require a U.S. airworthiness certificate. However, unless you really do have a death wish, you probably should get some preliminary flight training before taking off in your air scooter. You also need permission from the air-traffic control facility that has jurisdiction over the particular stretch of airspace you want to fly — unless you find an airfield without a control tower, in which case you're in luck.
"Generally, rules for ultralights and powered parachutes are loose and wide," says Lynne Haney, airspace and procedures specialist with Air Traffic Control at San Antonio International Airport. "You just need to meet the requirements of the FAA, which is pretty lenient about it. If you meet the regulations, you can even fly in Class C airspace `approximately 1200 feet above airport elevation`, depending on the type of equipment and certain pilot regulations."
Haney estimates that there are maybe 75 to 100 private and public-use airports around Texas that allow air scooters and other experimental aircraft. Randolph, Kendall, and Stinson airfields prohibit ultralights not equipped with approved transponder equipment. Airports with control towers may also require recreational pilots to have an experimental aircraft certificate before flying ultralights.
"A few airfields — Bulverde, Bat Cave Airport, Castroville — you'll see them out there," says Haney. "Those are good places to try if you want to see or fly ultralights."
If you're unsure of the pilot requirements for the air scooter or ultralight vehicle you're hoping to fly, Haney recommends contacting the Flight Standards District Office in San Antonio (the local enforcement branch of the FAA) at 308-3300. The office certifies pilots and the flight inspectors can tell you what level of sport-pilot training you need (or don't need) to fly an aircraft. The District Office also recommends checking out the Experimental Aircraft Association website at Eaa.orgd. The EAA website offers a calendar of events, including an annual "Texas Fly-In" held in May in Hondo that features experimental aircraft and lectures on experimental aviation technologies. The event draws recreational aircraft enthusiasts from around the world. Drop in next spring, or visit the Lone Star Aerobatic Contest in Sherman, Texas, June 9-10, and you might get some handy tips on navigating your little air scooter around S.A.'s airspace.