Once thousands of people bustled up and down Hemisphere Park's pleasant paths for the 1968 World's Fair. Now it is something of a recreational ghost town. If it weren't for the dependably uplifting popcorn cart in the center, filling the air with smells and the sounds of 1980s pop music, the urban park might seem to have gone the way of the dinosaur — both the lumbering prehistoric beast and the infections Was (Not Was) single. Or, if your glass is half full, this pedestrian- and bike-friendly area with fountains, a children's park, and historic architecture could be your personal pleasure-land.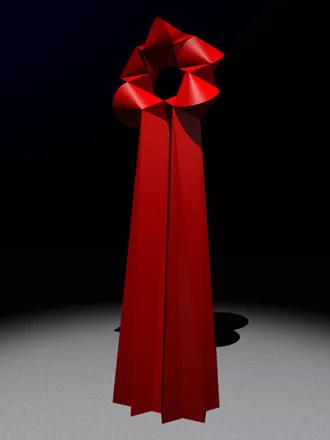 "Axis Mundi" rendering by Sebastián.
Recently, I strolled under the World's Fair arch to check out the Instituto de México, where I took in a free exhibition by Mexican sculptor Sebastián. The gallery spaces shimmer with silver sculpture maquettes. At first, the exhibit feels like you've walked into a jewelry store: decadently rich. But then, as you weave your way through the pieces, cracks begin to show in the façades.
"Sebastián" is a showman's name, like "Liberace" and "Madonna." Enrique Carbajal chose it for himself in the mid-'60s when he was an art student at the San Carlos Academy in Mexico City. Sebastián grounds his work in fractal geometry, topology, and crystallography. His large-scale public sculptures are simplified shapes dressed in one color — part science model and part Latin American Neoconcretism. Sebastián's works romanticize the basic elements of material, color, and form, but recognizable subjects peek through. The sailfish, Aztec figures, coyotes, and horses feel a bit cheesy when compared to the almost-religious abstraction of strict minimalists.
This fault is less troublesome, however, when Sebastián's art is taken out of the gallery and put in its proper place. Small works are a means to an end; they help him make monumental public art all over the world. His works grace such cities as Montreal, Mexico City, and Osaka, Japan, and his gigantic blue "Sailfish" sits at the water's edge in Manzanillo, Mexico. San Antonians know Sebastián for his 65-foot steel "Torch of Friendship," which commands the traffic island at Commerce and South Alamo. The red, curvilinear form just screams public art, standing out against the urban backdrop as the bold, non-functional abstraction that it is, offering a sentimental message of unity.


Sebastián
10am-5pm Tue-Fri,
noon-5pm Sat-Sun
Through Jun 10
Instituto de México
600 HemisFair Park
227-0123



Sebastián's painted sculptures work fairly well, and reduced versions are on view at the Instituto, where they can be easily digested with the eye. Just about human-size in scale, they make you want to walk around them and take in the changing views from all sides. Stark white sculptures are attractive, particularly against a black wall. When dealing with minimalism, however, on which his work borders, you have to be a slave to surface. These sculptures nearly all had scuffs, scratches, and dents — not to mention his prominent signature — that interrupt the moment like a skip in a record. His cursive name becomes a meandering, engraved pothole for your eye to fall into. I had the same sensation at the Nasher Sculpture Center when a friend and I stood in front of a large Alexander Calder sculpture and "tsk, tsk, tsk-ed" the large signature. It just smacks of attention-grabbing and shows how the artist lost focus.
Overall, the Sebastián show is interesting for displaying so many variations on a theme and, frankly, not every artist has to be misunderstood. Sebastián seems like a people-pleaser who loves what he does. Plus, the kindly artist just donated a sculpture to the San Antonio Public Library's downtown location, which has it displayed in the lobby. The red "Axis Mundi," a wreath of cones blasting off over an iron "skirt," signifies the center of the world. That's how I like to think of the library, so on that, the artist and I agree.