Web Exclusive
The busy girl's (and guy's) guide
to being seen in all the right places
In case you haven't heard, Democratic National Committee Chairman Howard Dean likes Mexican food. My mother and some friends went to dinner at Mi Tierra and upon sitting down, recognized Dean — in town for a speech and fundraiser at La Villita August 5 — and a few compatriots at the neighboring table. Immediately, and rather loudly, my mother asked to be re-seated in another area of the restaurant. At least she didn't sit there and harass the man. My died-in-the-wool Republican mom worships the ground Dubya walks on, and likely would faint like an Elvis Presley groupie if she saw him in person. She was so fired up over the Dean transgression that she called to tell me all about it while I was on vacation! Sigh.
A vacation sorely needed after the whirlwind of Contemporary Art Month. The lazy days of August, when the crowds at local swimming haunts thin in anticipation of school, are a nice reprieve before Fotoseptiembre, the city-wide photography festival, and the Fall Art Festivals — including the Conjunto Festival and Dia de los Muertos — begin. I've been lounging in a deck chair reliving my summer highlights.
Rather than kicking off Contemporary Art Month with First Friday's mishmash of art aficionados, college kids, and social neophytes, I opted for a burlesque show at Sam's Burger Joint. Imagine yourself surrounded by an assortment of 20-somethings embracing a look that's an odd combination of rockabilly and punk. Think retro suit straight out of Swingers paired with a Mohawk. The crowd was equally an odd mix. A stunning chica in a red corset, guys with more than a few facial piercings, even a pair of soccer moms in sweater sets, no less. Maybe this is how Alamo Heights goes slumming?
CAM offered up some great opportunities to ponder cutting-edge contemporary work, and mingle at great receptions, too. AnArte Gallery's proprietrix, Ana Montoya, held court among a number of guests, including Leigh Landreth, co-owner of the fab shoe store leelee `loves shoes`, fellow shoe fanatic Melisa Cancino, and Leigh's husband, Ron Landreth, one of the creative brains at Bromley Communications. To accompany me, I snatched friend and über-therapist Sandy Morrison as she walked to her front door and had a great time introducing her around.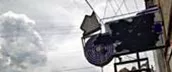 Several wise buyers added new artwork to their collections at the Alameda's ¿Seis Who? fundraiser July TK, including Trish DeBerry and her husband, Carlos Mejia. My favorite piece was Andy Benavides' enormous, inflatable pink bunny — which, as Felix Padrón, director of the city's Office of Cultural Affairs, noted, complemented an architectural feature of the theater's ceiling. Honestly, I hadn't stood there long enough notice, as the theater was ungodly hot. Fortunately, other art aficionados didn't wilt as easily as I.
The Art in the 'Hood Fashion Show was fascinating, particularly since a great number of attendees were either friends or family of the models. Local designers showed off their creations, which could be classified as The Great, The Good and The Hmm. Metal artist Jose Chapa's entry, dramatically introduced by a model best described as a foil-wrapped human baked potato, featured sculpture-like designs that I MUST find a reason to wear. The show started late — an occasional shout of "Let's go!" arose from the restless crowd — and several girls and I bonded over the distinct feeling that some kind of bug was crawling along our shoulders. I was a bit envious of Pablo Rodriguez's front-row seat, as he had the perfect spot from which to ogle the shoes.
My crowning glory for July was the Martini Dinner at Citrus Restaurant at Hotel Valencia Riverwalk. Hangar 1 Vodka was the featured attraction, with Prestige Wine rep Robert Robles as my entertainment. He chatted my husband and I up about Hangar 1's small-batch, limited production, and rare fruit-infused flavors as Citrus Chef Jeffrey Balfour paired the spirits with such yummies as South Texas antelope. Although I'm a vodka girl, I had never sampled anything like that. Dee-lish!
I'm already planning my September festivities. Are you? I'll be out and about, so be sure to say, "Hi!" Until then, don't be a bore, dahling! •