Fashion legend Roberto Cavalli unpacks his trunk at the Municipal Auditorium
Arguably one of the biggest names in haute couture, Roberto Cavalli has built a career that includes more than three decades of dressing royalty — the Hollywood variety as well as the truly titled. Culture historians credit him with first printing on leather, and for paving the rhinestone-and-fur-paved pathway for Versace and what one fashion writer called a "high-class-hooker sensibility." He loves — I mean LOVES — women. "He's a ladies' man," claims an industry insider, and his adoration shows in his designs. Often wildly adventurous and certainly not intended for shrinking violets, Cavalli's designs proclaim a decided bent toward shocking color, animal prints, and leather, all specifically intended to perfectly flatter the feminine form.
So, San Antonio's fashionistas will be beyond thrilled to learn that Cavalli is bringing his Spring 2006 collection fresh from the runways in Milan to San Antonio for its only North American appearance Wednesday, November 2. You heard me: San Antonio will be only the second audience to lay eyes on dozens of delicious new creations in person. The landmark event, part of Saks Fifth Avenue's 20th-anniversary celebrations, will benefit ARTS San Antonio's performance and arts education activities, as well as the Treehouse Day Program's daily therapeutic work with autistic children.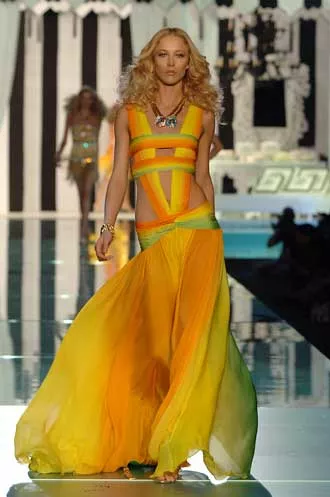 A spring gown for the uninhibited by Roberto Cavalli, who will present his new line at the Municipal Auditorium November 2.
Cavalli kept his spring collection well under wraps before its debut at the close of September in Milan. Eschewing New York City's Fashion Week and the Paris shows for Italian audiences, Cavalli revealed a collection of dresses, flowing pants, and delicate blouses described as "French Riviera meets Hollywood." The collection featured plenty of patriotic color palettes as well as timeless black and white — including tiny, sequined swimsuits! — shot through with flashes of color. The animal prints for which Cavalli is known are embodied in a giraffe print and a likely favorite for a bold chica is the deceivingly demure gingham dress whose long, full skirt parts in front to reveal matching hot pants.
As reviewer Hamish Bowles commented on style.com, "The sheer, outrageous courage of Cavalli's convictions allows him to filter and shake up influences and make them all his own — even when he's ransacking the archives of the design greats for details ... Who but Cavalli himself, however, could send out a finale parade of sequined black-and-white swimsuits — surely designed with the pool boy rather than the pool in mind?"
Cavalli corresponded via e-mail with the Current while preparing for his Alamo City fete.
What and/or who, specifically, inspired your new collection?
I spent a wonderful time this past summer with my wife, Eva, and my family on my yacht between St. Tropez and Montecarlo. I love the colors and the "dolce vita" atmosphere of the French Riviera — beautiful women who love to dress up and look great at any age. It's the same glamour that I find in when I'm in Hollywood.
What is your favorite element of your spring collection and why?
I used all the colors of the rainbow for a positive attitude toward life. Color and feminine silhouettes are the key components of my new spring collection. A retro eye to the '50 and lots of floral prints, those are always my favorite for spring.
What do think a woman is most beautiful wearing?
I love gowns. I love the whole processes of women getting ready for a special night: the hair, the makeup, the shoes, the bag ... it's a ritual that is disappearing these days ... but has an enormous charm to me.
Roberto Cavalli Fashion Show Benefiting ARTS San Antonio
and
Treehouse Day

7pm Wed, Nov 2
$250 tables available

Municipal Auditorium
100 Auditorium Circle
226-2891

Do you guide your wife in a particular style direction, or does she tend to follow her own style?
My wife has a very strong sense of style. She is, in fact, the creative director of my company. We met when she was 18 years old, so her style is strongly influenced by mine, but she has the feminine eye that is very important. She taught me a lot of secrets about women's desires.
Do you find yourself evaluating fashion everywhere you go? For example, when you are at an event (or out dining, shopping, etc.), do you mentally make note of who looks good, who has made a drastic fashion mistake, etc.?
The success of my line is due also to the fact that I like to go out and be social. That's the only way you can see where the trend is going and what women really want to wear. Ideas come from everywhere ... I always have my digital camera with me.
What is your fashion pet peeve?
The lack of personality. You should never `wear a` designer head to toe, but choose and mix with what you have already in your closet. Be the designer of yourself.
Some of my family members are artists, and they sketch or photograph ideas almost constantly as part of their creative process. Do you do the same? How would you describe your creative process?
Photography is my second passion after painting. All my prints are inspired by photographs that I take during my travels. A small detail of a flower, or the reflections of the water can be the start for a whole collection.
When you aren't shopping at Saks Fifth Avenue, where do you shop? And what do you love to buy most?
I love electronics; I'm a fanatic for Sharper Image and all the fun gadgets. I love digital cameras, computers and cell phones ... I'm always looking for the latest new thing!
What's your impression of San Antonio fashion?
I always loved Texas. I did one of my first trunk shows in San Antonio when I started my business in the '70s ... at Frost Brothers. I find San Antonio women very receptive to fashion, with a very particular and modern twist.
What's the one thing every San Antonio woman should plan to add to her spring wardrobe?
Cocktail dresses are a must for next season.
What's the best way to find fashion if your town isn't a hotbed for it?
Today there's no more such a problem. We live in a global society where you can get anything, anywhere, in a matter of days. You can review any fashion show online half an hour after we present it.
What is the best way to look your best in the withering San Antonio summer?
Fashion requires some compromises, but style doesn't. You can look great even at 100 degrees; it's all about your attitude and selecting the right fabric and shape for your body.
What are you looking forward to most during your upcoming event and stay in San Antonio?
I'm very interested to see the reaction of a completely different audience. Saks Fifth Avenue is a great partner to showcase my fashion, and I'm sure I will have great time!