Comic book reviews by Jeremy Martin
Wonder Woman #1
D.C. Comics
Written by Allan Heinberg
Art by Terry Dodson and Rachel Dodson
$2.99, 32 pages
Admit it: Wonder Woman is kind of lame. There, don't you feel better now? Sure, she's part of D.C.'s trinity (Superman, Batman, Wonder Woman), but she's by far the weakest link. Not because she's a woman, but because she flies around in an invisible plane. That's not so much a super power as a high threshold for looking stupid.
Allan Heinberg sets out to change all that with the latest re-launch of Wonder Woman, and he's about halfway successful. The problem here is mostly visual. Penciler Terry Dodson can't decide whether he wants to draw a sleek, respectable comic book or wanking material for 14-year-old boys (or girls — I'm not here to judge). So, despite Heinberg's noble efforts to revitalize somewhat ridiculous supervillains like Cheetah and Dr. Psycho, he's always foiled by Dodson's distracting tendency to draw ridiculously top-heavy women.
Reading Wonder Woman, your thought process ends up being: "Hey, this is pretty good: Respect for characters and continuity mixed with a new sensibility and ... Oh holy Christ, take a look at those jugs."
Give credit to Heinberg for taking the character seriously, bringing in younger sister Donna Troy to fill in while Wonder Woman takes a sabbatical, resurrecting a 30-year-old Wonder Woman plotline, making the bad guys almost menacing, and giving Diana Prince the possibility to regain the respect she hasn't had since Lynda Carter started doing contact commercials. But Dodson, seriously, try to keep Wonder Woman in a C cup.
If you've been looking forward to this series since Moonstone announced it, or if you got excited just now when you read it was coming out, you should probably feel a little shame. This is the book that only the nerdiest of comic readers will be purchasing at the checkout counter. That's right, you're too nerdy for the average comic geek.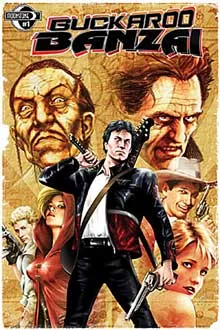 Buckaroo Banzai #1
Moonstone
Written by Mac Rauch and Joe Gentile
Art by Stephen Thompson and Keith Williams
$3.50, 32 pages
But don't let that stop you. Just buy the damn book. You should've given up on women long ago.
It's been 22 years since the original movie came out, so we Hong Kong Cavaliers should consider ourselves lucky anyone's even paying attention to us anymore, but this honestly could have been better.
Instead of focusing on Buckaroo's fight against Hanoi Xan and the World Crime League as you might expect, Mac Rauch and Joe Gentile choose to resurrect Dr. Lizardo in an obvious effort to make the book a sort of sequel to the movie. (Notice I'm not worried about explaining these things to the uninitiated. All but the most obsessive fans already gave up on this review after the second sentence or so.) The problem here is Moonstone doesn't seem to realize they've tapped a specific niche market here. This will not be a best-seller.
The delusional thinking behind the marketing becomes apparent in the first few pages of the book. Buckaroo Banzai No. 1 begins by recapping the movie, almost to the point where you begin to think it's a comic adaptation. Seeing as how the series title is "Return of the Screw" and the cover features a ridiculous but accurate-looking red lectroid clutching a leather-clad woman, I doubt anyone who's picking up this book doesn't already know what it is.
Those minor complaints aside, how sweet is this, honestly? This book is probably the closest we'll get to a sequel, and it's pretty good. The original story was conceived by Rauch, the man who penned the movie screenplay, so it mostly stays true to the spirit of the film. The art captures the original screen actors, so the book has the feel of a comic from the movie. Frankly, 20-plus years after its theatrical release, we Buckaroo fans better take what we can get.
American Virgin #4
Written by Steven T. Seagle
Art by Becky Cloonan
$2.99, 32 pages
Why aren't you reading American Virgin yet? If this series were any better or original, it would be called Y: The Last Man. The four-part "Head" series comes to an end with this issue, resolving a few questions, but leaving Adam searching.
Steven T. Seagle manages to write a compelling story about a fundamentalist Christian without resorting to satire or much irony. Adam is a bit stereotypical as a pro-celibacy Christian speaker, but his struggles with faith and anger after the death of the fiancée he's saved himself for is believable and meaningful.
Despite the book's winking series titles ("Head," next: "Going Down"), Seagle handles Adam maturely, as a real person in an identity crisis, with feelings and emotional conflicts. Religion probably hasn't been explored this effectively and honestly in graphic format since Craig Thompson's Blankets.
If you need more incentive to head to the comic shop, the book was made to read on a monthly basis. Unlike most comics these days, American Virgin seems to be written issue by issue, not for later collection in trade paperback. Plus, Seagle has promised the book will get kinkier when the title American Virgin stops applying to Adam. You'll want to establish yourself as a fan early, so the guy behind the counter doesn't assume you're buying later issues for "special reading."