Buttercup turns the table with performance art that's all about you
First Friday was kind of quiet last week. Where was everybody? At home with their feet in ice? Sure, it's easy to love art during the good times, but what about when it's hot as hell? How are you ever going to make it through July's Contemporary Art Month if you don't start practicing now?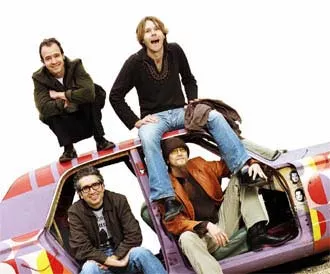 When Butterdup sings "Your Song" during Audience of One, it's really about you.
(Photo by Mark Greenberg)
Plus, you missed a delicious Happening. Three Walls in the Blue Star Complex (106 D Blue Star, one night only) featured that lovable boy-band Buttercup in Audience of one, in which you sign up, file in one by one, grab a refreshing Fanta and Franzia spritzer at the bar, slip behind the usually off-limits curtain, and wait for your own personal serenade. I answered the band's few questions about my day; they delivered lyrics that fit like a glove.
I cheated and went with my friend. Turns out, most people cheated and went in twos and threes. Not only was each song different, but so was each reaction: Some kicked back, some danced, and some brought their barking chihuahuas. We sing songs everyday that were written about other people - "Georgie Girl," "Barbara Ann," "Me and Bobbie McGee," "Judy is a Punk" - but these lyrics were tailored just for us and it was just, well, nice. We walk around and look at art, trying to figure it out, and it was refreshing to turn the tables and have someone sit and figure us out and make art about it. There is no band with greater ability to do so than Buttercup, which has continually connected to its audiences and pushed into the realm of performance art, particularly during their Monday sessions at the Wiggle Room.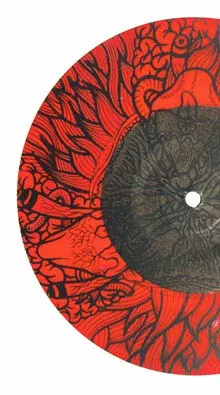 A limited-edition 45 with a real secret message: The backward poem is about not fearing death.
After the song, you had to make way for the next lucky person, but you received a big green sticker with the name of your song written on it. We all walked around like proud blood donors, admiring each other's stickers and asking, "What was your song like?"
While waiting for your name to be called at Three Walls, you could take in the show at Cactus Bra (106C Blue Star, through June 15), where Kansas City artist Seth Johnson's Dead Void Heretic also merges music with art. Black-and-white psychotropic wallpaper sets the hypnotic, rock 'n' roll mood. On the facing wall, a roto-relief spins red and black images gleaned from Tibetan Buddhism's tantric images of Wrath. This connection is less enraged than one might think, since wrath's only place in Buddhist religion is to stomp out the three poisons of ignorance, anger, and lust. Johnson savvily connects this to 1980s heavy metal, pointing out how metal's guttural growling sounds so much like Tibetan throat singing.Unfortunately, you only get that connection by talking to the artist and my only complaint is that the show needs some explanation to really bring out the smartness of it all.
Beneath the roto-relief, a limited-edition 45 (available from the gallery) produced by Johnson spins on a turntable. It projects the artist's voice, warped into an abstract hum, followed by a poem played backward - an homage and riposte to the one-time accusation that certain albums played backward revealed satanic lyrics. The poem is about not fearing death, which is another correlation to Buddhism and its embrace of death as liberation. •