For Ralph Howell, all the world's a camera. For Steve Reynolds, it's a diagram.
Robot Gallery has redesigned its gallery space to make viewing easier (724 S. Alamo, Ste. 3, 476-8668, through September 30). This month it features Andrew Watson's How We Used to Live. An image suite of smoke curls, running the length of the wall, confronts the viewer as they enter. Blue highlights fluoresce in a way that hints at an irregular photographic process: digital images on black vinyl. While the choice of materials may seem decadently loungy, the subject matter is nostalgic with abbreviated elegance. The vertical wisps of smoke rise and bounce, like tiny skywriters cutting through the black.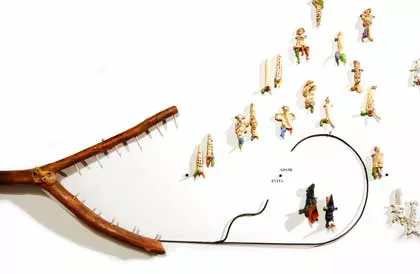 A detail from retiring UTSA Professor Steve Reynolds' one-man show, installed at the Southwest School of Art & Craft through October 20.
The source of the smoke is omitted but the connotations are numerous. Perhaps the "way we used to live" is simply about smoking's lost ubiquity, still visible in classic black-and-white movies in which almost all of the characters gesture coolly with their cigarettes. They actually did look cool doing it, no matter what anyone says, although their suaveness was aided by their stylish clothes. Watson's individual smoke trails allude to loners in thought, putting the viewer in a similarly reflective mood.
Two other sets of photographic works are on the facing wall. The "Souvenir Series" is too cloying but three vertical photos use their height to dwarf man or man-made objects with nature. Their play of textures is gorgeous and "Foggy Pathway" recalls the proud ending of Private Benjamin.
Ralph Howell's Kitsch Cam Impressions presents his Mirror Reflections Series, a triumph of pinhole camera work, in Blue Star's Gallery 4 (119 Blue Star, 227-6960, through October 2). Entering, viewers catch themselves in a warped mirror whose fun-house aspect alludes to the childlike subject matter. Even more importantly, Howell uses mirrors to capture the cameras themselves at work. Howell is a pro at turning almost any object into a pinhole camera. Here he uses toys such as Woody from Toy Story and a Crusty the Clown jack-in-the-box, a kitschy religious spray can, and tin boxes featuring vintage characters such as the Lone Ranger and Betty Boop. These are central figures in backdrops that use fabric and props masterfully. Colors radiate like the Vegas drag and the setups are devilishly clever.
At first glance, the Darth Tater Mr. Potato Head is amusing, especially since potatoes have eyes, but these pinhole "eyes" give the toys the power to see and be seen. The most beautiful photograph is "Resin Buddha Statue as Pinhole Camera" in which Buddha sits cross-legged, reflected in an endless number of mirrors. As the saying goes, "If you meet Buddha on the road, kill him!," because Buddha lies in you. Same goes with Howell's embedded pinhole cameras.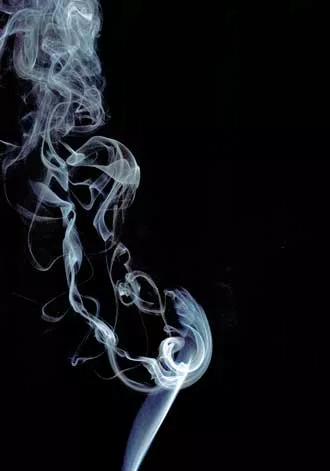 Photographs by Andrew Watson are on view at Robot Art Gallery through September 30.
One of the best shows I've seen this year is Steve Reynolds' solo exhibition at Southwest School of Art & Craft (1201 Navarro, 224-1848, through October 20). He confidently uses the entire surface area of the gallery the way a teacher scrawls out systems and equations on a chalkboard. Using clay, wood, and found objects, Reynolds makes objects that defy categorization in a way that seems compulsive, like a bird building a nest with whatever is handy. The analogy is apropos since he draws heavily on natural science and cultural history: In "Remembering" his geographic altars illustrate Budapest, Wounded Knee, and Ayers Rock. "Aleph" takes up an entire wall with its hand-size clay objects and branch with teeth. Illustrating the origin of the world, black ceramic antelope gallop across the wall in reference to cave paintings and molded bird heads at various developmental stages are framed in glass.
Reynolds' show is visually dense but the scientific language is denser. A word reappears in his information networks - "eidetic" - which means the ability to retain visual information, particularly of non-related objects. Reynolds challenges us with his perfectly balanced overload of objects and illustrates his own numbered lists in ways that range from stark silhouettes to complicated creations with theatrical flair. •