Giant tea cozies and Po-Mo sunbursts
If you drive by Unit B at night you can't help but stare in the windows and wonder. There is a family in the kitchen, books line the walls, and a television flickers — but the kitchen apparitions are bodiless and the living room's books have been flayed. Reconstructing the Mundane, the latest show by curatorial team Kimberly Aubuchon and John Mata, fills the domestic gallery with objects and ideas that re-examine the quotidian suspects of everyday living.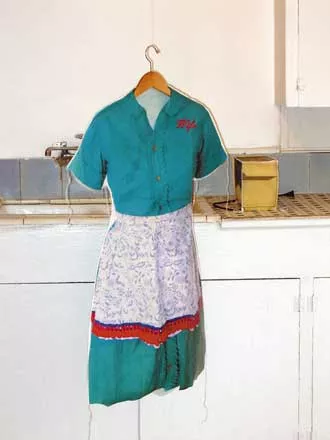 Austinite Destina Olivares's fabric sculptures inhabit the kitchen at Unit B gallery, while Chicago's Brian Dettmer, below, edits comic books and vintage hardbacks to their action-packed cores. Their work is on view through May 5 as part of the group show Reconstructing the Mundane.
Destina Olivares of Austin took the idea of cozies — the knitwear that women used to make to cover such household objects as teapots — and created a series of photo-transfer sheaths on raw fabric for the gallery's mid-century kitchenette. Like a blue-collar uniform, a man's suit is embroidered with "husband," and a wife and daughter's dresses advertise their respective roles. A wall-phone cozy reads "helpful" and a retro toaster says "useful." Olivares designed the soft-sculpture installation for this space and it looks beautiful, particularly the wife's green dress and red-fringed apron. But they ring with such complacency that I am left wondering what her opinion is of these traditional roles.
Brian Dettmer of Chicago takes comic books and vintage hardbacks and searches them for illustrations he likes. Then he turns back to page one and obsessively carves into the book until he has cut away all but his favorite bits. Juxtaposed images of culture, architecture, and science float together like theater props in a tiny space. Superheroes overlap each other in forced action scenes. These are the work of a selective egghead and they recall the pre-computer days when an encyclopedic library was a domestic fixture, including all those colorful comics stashed under little boys' beds.
I recommend making an appointment to see the show and be sure to watch "Jezt Im Kino" ("Now in Cinema"), a 2003 video by Matthew Noel-Tod of London, from start to finish. He, too, selects favorite moments from books, as well as film, and uses them as cinematic subtitles that appear and disappear while the city of Berlin whizzes by on screen at a fast clip and a Mozart concerto builds majestically on the soundtrack. The video's slightly surreal, open-ended thought process captures some of the mental movie-making that occurs in our heads when we read great books.


Reconstructing the Mundane
By appointment
Through May 5
Free
Unit B
500 Stieren
(312) 375-1871
unitbgallery.com

The Common Reader
By appointment
Through May 20
Free
Triangle Project Space
416 E. La Chapelle
222-1861
triangleproject.net



Another exhibition of imported artists opened recently at Triangle Project Space, and its related ideas about books and low-brow objects couldn't be more different from the domesticity at Unit B. The Common Reader is a curatorial project by British artist Tom Humphreys who took his idea from the Virginia Woolf book of the same name. Woolf's Bloomsbury circle of artists was strongly opinionated about art and craft production, and Humphreys wanted to explore similar ideas. He convened three young artists associated with Frankfurt's Städelschule to come to San Antonio and make work with a craft bent at the Triangle. Unfortunately, Humphreys had Visa problems and was unable to come, although his work made it and is some of the strongest in the show.
I was excited about the idea of craft entering TPS's hallowed walls of new media, but the show has little to do with craft. Humphrey's paintings on cardboard resemble modernist architecture. Alexander Wolff's felt curtain is an adjustable dance backdrop and his "mosaic" sunburst pattern in clear glass shards on a white gallery wall is a high-brow reinterpretation devoid of messy concrete, figuration, and hot-blooded colors. Lucie Stahl's weird sculptures are about minimalism's relationship to the body, the stuff of Michael Fried's Art and Objecthood, but they are somewhat art-school-level experiments — abstract constructions with a ceramic vessel painted on one side. Will Benedict lays Public Service Announcements and glossy magazines together under glass. TPS lent itself as a willing laboratory and the result, not to mention Woolf's important text, is worth discovering for yourself. •