In San Antonio, January means Performance Party. It's Jump-Start Performance Co.'s annual birthday bash and it is, hands-down, the coolest theatrical event of the new year. Since 1988, the place to be on the first Saturday of the year has been this marathon of comedy, music, video, poetry, dance, and performance art.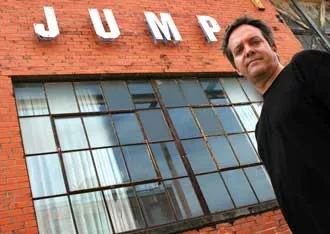 Jump-Start director Steve Bailey
(Photo by Laura McKenzie)
Festivities begin at 7 p.m. on January 7, at 108 Blue Star. Doors open at 6:30 p.m. and the suggested donation is $5, although, as always, more is gratefully accepted and no one is ever turned away. Don't worry about making a reservation ... it's every man, woman, and child for themselves.
The roster will change, almost up until the last minute. Performance Party is Anything Can Happen Night. Guest performers may show up from out of town, company members may spring a surprise, and, as always, Jump-Start will be joined in the celebration by some of the area's most gifted artists. This year's Vegas-themed evening is already scheduled to include appearances by Amalia Ortiz, Karavan Dance Co., John McBurney, Dos Generaciones, Urban-15, and more.
Start the new year off right. Go to Performance Party. You'll leave feeling energized and optimistic about performance in San Antonio. And that's a real Christmas miracle. •