René Paul Barilleaux brings his affinity for diverse and cross-bred mediums to the McNay
This August, René Paul Barilleaux will become Curator of Art After 1945 at the Marion Koogler McNay Art Museum, a position created in 2000 and held by only one other person, Malin Wilson-Powell, who returned to New Mexico in spring 2004. Barilleaux is an artist with fine-arts degrees from the University of Southwestern Louisiana in Lafayette and Pratt Institute in Brooklyn, New York. He leaves his current position as Deputy Director for Programs at the Mississippi Museum of Art where he has a track record of diversifying and updating collections, exhibitions, and audiences.
The following is from an e-mail interview the Current conducted with Barilleaux as he was preparing to move to San Antonio.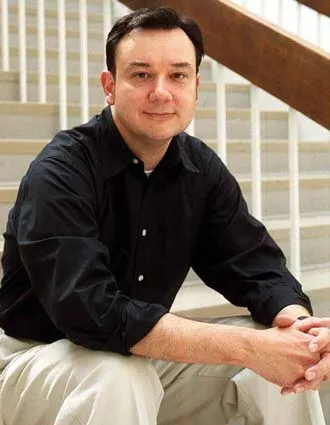 René Paul Barilleaux is the new McNay Curator of Art After 1945.
You are an artist by training. How does being an artist affect your attraction to certain media?
My interest has always been in the art of our times. As a student, I focused on painting, collage, and assemblage, but did work in other mediums, including film. So my work as a curator has always been affected by wide-ranging interests - not bound by particular disciplines or materials but marked by each artist's individual vision, energy, and commitment.
You have curated exhibitions that revolve around photography, including three-dimensional laser photography, known as holography. How do you see exhibitions like this fitting into the medium's larger discussion?
In some ways, the widespread use and critical acceptance of color photography since the mid-1970s has paralleled my own involvement in the visual arts, since my days as a serious art student began about the same time. Also, my first curatorial position - at the Museum of Holography in New York - and an ongoing involvement with holography have broadened my interests in a range of image-making techniques.
Among my favorite photography projects are those that integrate photographs into exhibitions of painting, sculpture, and works on paper. In 2003, I curated an exhibition at the Mississippi Museum of Art that juxtaposed works created around 1903 with works created around 2003 - essentially comparing "contemporary" art from periods 100 years apart. Among the early photographs were vintage Lewis Hine prints made in Mississippi, and recent years represented by Ernesto Pujol's large-scale "performance" self-portraits, and Sally Apfelbaum's photograms of everyday objects.
You established some interesting opportunities for contemporary artists at the Mississippi Museum of Art, including the Mississippi Invitational and Works in Progress, a series of solo shows. Can you tell me what spurred you to take on those projects and what effect they had on the community?
One of my primary interests as a curator working with recent art is in de-mystifying the art of the present. The Mississippi Invitational was designed to do two things: to bring to a substantially regional audience the work of new and exciting artists living in its midst and to bring outside critical attention to the work of Mississippi-based artists. This second goal was accomplished through studio visits by a recognized guest-curator from outside the region. The Work in Progress series, while not exclusively created by artists from the South, explores the processes of making art in the context of a museum exhibition.
Despite some great recent acquisitions, the McNay's collection of art after 1945 is still young and needs some focused collecting, particularly when you get into the last few decades of the 20th century. Are you looking forward to filling in the gaps? If you could acquire one object, what would it be?
Already it is apparent from some of its recent acquisitions that the McNay is committed to expanding the focus of its collecting. I think that photography is one area to consider, especially in light of how important photography is in contemporary art practice. Abstraction - in particular the recent developments in what might be termed "lyrical" abstraction - continues to be a significant direction for many artists working today, and would be a natural complement to the abstract work already in the McNay's collection.
If I had the ability to acquire one work, it would be either one of painter Agnes Martin's ethereal canvases from the '60s or '70s, or a classic 1960s picture by Pop master Andy Warhol - two vastly different artists whose work is of great interest to me and whose work would fit nicely into the McNay's collection.
San Antonio always surprises art-world luminaries when they come as curator for Artpace or for events such as 2003's WAX writers and artist's conference. Did you have a similar experience in your recent visit? Were you able to visit other institutions or art spaces?
I have visited San Antonio often for two decades, and have observed the art "scene" evolve over this period. In addition to the McNay itself, the vibrancy of contemporary art and the community of artists was part of my attraction to the city. The combination of several major institutions with numerous smaller and alternative spaces makes for a dynamic place in which art, and artists, can develop and flourish. •