A partial overview of Contemporary Art Month highlights at the halfway mark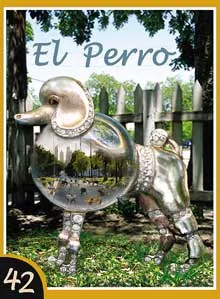 These are a few of our favorite CAM things: Kate Terrell's entry in Local Lotería at Southwest School.
Mister Danny Geisler's giant dumpster bouquet at Blue Star.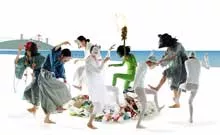 Mimi Kato's digital prints at Joan Grona Gallery.
Beto Gonzales's faux-fur girls do one9zero6.
First Friday for Contemporary Art Month 2006 was winding down, and more than a little fatigue was in the air. Gallery owners eyed the young partyers in Blue Star's parking lot, who looked and sounded ready to carry on 'til dawn, the way my cat used to eye the goldfish. There was rumbling deep in the un-air-conditioned bowels of Building B, where one art-space dominatrix told the remaining revelers to get out if they weren't buying. Hard to blame her: Although First Friday still sounds like the official kickoff to many ears, CAM has been hard underway for four weeks, and if you're on the circuit, endless afternoons and evenings of art have been followed by endless nights of socializing at the obligatory post-opening parties and private receptions. (I've been skipping the parties, and I still haven't had time to open my tantalizing email from Gene Elder — of the Happy Foundation and the MUD Underground — titled "Teddy Roosevelt and Martha Graham.") A couple doors down, J. Derrick Durham was giving away the wire-mounted white squares with black crosses that wave like flowers in his installation at Three Walls. The cheese food of the show's title, thank Betty Crocker, remained on its '50s-teal shelves, where it wasn't melting so much as slumping.
If you haven't got the stomach for intentional spoilage, reconfigured pinup girls, and portopotty humor, this isn't the art festival for you. On the other hand, if you're adventurous and armed with hair-trigger emotions, you can experience CAM the way I like to imagine its visionaries — Artlies Editor Anjali Gupta and artist Robert Tatum — intend you to: like a flâneur, absorbing it all as visual culture rather than as discrete shows and events. Still, with more than 80 options to choose from, a plan might be helpful, or at least a set of priorities. (For addresses, contact information, show times, and additional info, visit Camsanantonio.org, or see the Current calendar, page 15 and online at Sacurrent.com.
So you love representational art:
See second paragraph above. The cluster of skillful works by Andy Tshoepe and Steven DaLuz in Blue Star 21 aside, this is a good time to push your boundaries a little. REM Gallery is hosting The New Hotness by Howard Sherman, a small but impressive collection of large abstract paintings that seem well-grounded in Kandinsky's "Principle of Inner Necessity," versed in Joan Mitchell and Basquiat, and grad-school polished. Fans of graphic and comic genius Genndy Tartovsky will also find something to like here, and it's not the artist-proclaimed theme of globalization, either. Look closely at that silver canvas, "Great Wave" — perhaps a rejoinder to "Le Petit Morte"?
You want some of that much-lauded interactive art:
"The Found and Lost Grotto of San Antonio" by 2006 Artpace residents Gerda Steiner and Jörg Lenzlinger invites you to enter a cave ingeniously constructed of sheets and filled with familiar objects: pens, combs, jewelry, slingshots, a sheriff's star. If one of the suspended or pinned items trips a meaningful memory, you can take it home with you, provided you leave a drawing and note on a cardboard pendant in its place. The line was long for this one on opening night, in no small part because some artists couldn't resist leaving their own work of art in place of the purloined flotsam. (Ricky Armendariz, I'm talkin' to you.) You should have more luck now that things have settled down, but I don't know how many objects are left, or perhaps more pertinently, if you can take Ricky's drawing because it reminds you of your first big-boy comb and replace it with a drawing of the drawing ...
St. Anthony was the patron saint of lost things and, coincidentally, not long ago a carful of local artists was discussing how appropriate it is that our city is named San Antonio. I believe they were actually bitching about the misleading new street signs to our cultural attractions posted around downtown; regardless, Steiner and Lenzlinger's installation is a delicate and lovely nod to our city while in keeping with the artists' body of work.
Wait, wait. What was that about Tartovsky? That's more my thing:
On July 14, Bihl Haus Arts will open a suite of 40 illustrations from Adan Hernandez's forthcoming graphic novel, Los Vryosos: Tales from the Varrio. Hernandez's work moves fluidly from a dramatically charged version of the realism associated with Jesse Trevino to his own brand of magical surrealism — or, as one bio has it, it "fuses Neo-Expressionism with Chicano Noir."
If the word "noir" makes the hair on your neck stand up in anticipation, make the trek to Motel 3 on South Presa to see the "Police Bungalow" by Austin's Ali Fitzgerald, which takes full advantage of the space as a stage and not just a satellite gallery with oversize comic-book cops on a crime scene. LA Confidential meets Batman: The Animated Series.
You're looking for bargain art:
CAM is a great time to start or add to a young collection, because affordable art abounds. Joan Grona Gallery is showing a roomful of funny little plaster-of-paris sculptures by recent UTSA grad Brian Jobe. Jobe used plastic bags to shape his creations, which are ever-so-slightly anthropomorphized with zip ties, buttons, and beans. According to Grona, a gentleman from Austin said they made him sad and proceeded to buy three. I felt the same conflicted emotions evoked by digital Japanese pet icons, but haven't yet bought any — although they are available for the low-low price of $250 (I'm saving them for you; don't make me regret it).
Flight Gallery is another good place to stretch your hard-earned discretionary income. If you don't buy it first, I'm saving my pennies ($300 worth) for Sean VonMerveldt's "Untitled" bucktooth boy holding a handful of balloons in front of a graph that contains a jagged landscape that's almost Swiss. Adreon Henry's Klee-like abstract painting (done in reverse on acrylic according to Flight Director Justin Parr), "J. Pendleton Masquerading as Something Else in 1942," is already sold, but it's worth a gander, as is Bunnyphonic's simple red illustration on blue vinyl records. (I missed Bunnyphonic's live performance at Cactus Bra, which elicited an oath from the performer. "People said it was Fellini-esque," reported gallery director Leigh Anne Lester. "And she had good footwork." But the mask-wearing, accordion-playing artist is taking part in the Glasstire Talent Contest tonight, 7-9 p.m. at Suede Lounge, 231 E. Houston. $5. Winner takes home an Ethel Shipton trophy. Be there or be cursed.)
Nice. But I'm more, um, transgressive:
This is the CAM for you, sweetheart. The Porno Show at one9zero6 didn't knock my stockings off (dick-face brown-paper-bag puppets?), although to date it is responsible for the most delicious coincidence of CAM 2006: Beto Gonzales's "Bill Miller girl" is exposing her considerable brassiered knockers in the interior of one of the barbecue chain's locations, while the familiar pig, chicken, and cow cavort in the corners. See our cover for another take on Bill Miller's iconographic power, Dan Borris's entry in the fantastic Southwest School of Art & Craft's Local Lotería show. If only we could bring back Alejandro Diaz's 2003 one-man show at Sala Diaz, "Back in 5 minutes," in which the BM animals get the white-glitter treatment. The Porno Show's greatest grace is its thrumming '70s Boogie Nights vibe, which I wish Laura Nashville had carried through in her X-rated collages by decoupaging them onto old wine bottles and votive candles. As time goes by, I think the subconscious influence of the birth of porn on the generations born in the late '60s-early '80s becomes increasingly apparent — this installation and a growing number of late-night reality-TV shows being cases in point.
Hey, didn't you advertise a "Best in Show?"
Yes, but with the caveat that CAM is only half over and we'll revisit the topic in a couple of weeks, by which time you'll also know the winners of the first-ever Green Eggs & CAM Awards, held at 8 p.m. Sunday, July 30, at the CameoCenter.
That said, our halfway-mark Best In Show goes to Mimi Kato, whose digital-print installation at Joan Grona Gallery continues her exploration of Japanese cultural touchstones in an increasingly fragmented and value-relative world. You can read about the inspiration for her new works in Catherine Walworth's interview, page 15. And to Mark Schatz's magical and melancholy installation in The Way We Were: Nostalgia in Contemporary Art at the UTSA Satellite Space (curated by Current art critic Catherine Walworth). Schatz uses packing peanuts and cardboard boxes to create a relief map of highways and destinations that evokes the American fascination with space and movement and the cost of that open-road romance.
All right, on your feet, ladies and gents. Yes, it's hot, yes, good art gets under your skin; but as Martha Graham once said (thanks, Gene), "Darling, if your creative fire can be put out, then it should."