Part One of Latino Odyssey: Space, the Final Frontera, a three-episode, space-age telenovela featuring the Luna family and their galactic firebrand daughter Sol, opened last weekend at Jump-Start Performance Co., 108 Blue Star. Catch parts Two and Three this weekend, or all three episodes March 24-25. Starring Amalia Ortiz, Michael Avila, Janie Saucedo, Mario Falcon, Kitty Williams, Melissa Silva, Laura Lozano, Max Parrilla, and directed by Parilla, Latino Odyssey is the sequel to The Race for Space and is a production of the Electric Performance Lab, which supports the development of new works.
8 p.m. Friday & Saturday, 4 p.m. Sunday. No show March 26. $12 adult; $9 student, senior. For more info or tickets: 227-5867.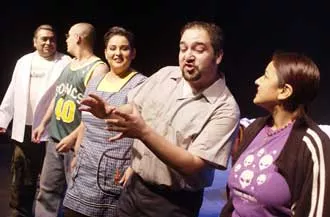 From left: Max Parilla, Mario Falcon, Janie Sauceda, Michael Avila, and Amalia Ortiz, perform in Latino Odyssey: Space, The Final Frontera, at Jump-Start Performance Company.
(Photos by Mark Greenberg)