River City Wrestling is powered by mania
Professional wrestling has a longstanding history in Texas. From Hall of Fame wrestler and Houston-based promoter Paul Boesch and his cross-state marketing campaign in the '60s and '70s to Dallas' Von Erich family to San Antonio's connection with Jose Lothario and Shawn "The Heartbreak Kid" Michaels, Texas' roots are deep when it comes to grappling in the ring.
"One Man" Mike Dell (left) and Sprio tumble to the mat during a match at River City Wrestling's Texas Explosion 2005 held at the Castroville road YWCA.
(Photos by Mark Greenberg)
Now, San Antonio is ready to introduce a new generation of wrestlers who are willing to do anything to climb the ranks. For many, it all begins with River City Wrestling.
President and owner Brandon Oliver founded RCW, a local organization of renegade wrestlers, in 2002.
"There was nothing really going on locally," says Oliver, 27, who began his career two years earlier at the Shawn Michael's Wrestling Academy. "It was really a shame because there is a big market here for wrestling. Every time World Wrestling Entertainment comes, they sell out the place."
"Mr. Beautiful" Rudy Russo primps for the crowd.
Kris Kronie, (left) and Johnny Ender (right), take down Quinten Allen.
A wrestling fan since age 6, Oliver said he was adamant about creating an organization where wrestlers devoted to making it to the professional level could hone their skills through grueling training and regular public performances. To assist with the training, Oliver recruited current RCW champion Kazushi Miyamoto from Tokyo, Japan, a country where wrestling education is so strict that trainees are required to live in the dojo.
"We get kids in here all the time that say, 'I love wrestling,'" Oliver said. "But there is a difference between just loving wrestling and being passionate about it. So, they come in here, we rough them up, stretch them, and run them. They find out what we are all about and they don't come back."
Kris Kronie (center) gets flipped by Quinten Allen during a tag team match.
Johnny Ender (right), tries to pin Quinten Allen.
One wrestler who decided to endure the intensive exercise was Lawrence Cunningham, 27, who goes by the name Ikaika in the ring. Cunningham, who moved to San Antonio from Hawaii to pursue a career in wrestling, said he has wanted to wrestle since he was 9.
"I remember I would make these fake belts and go around beating kids up," Ikaika said after a workout at RCW's training headquarters, Arts of the Scholar Warrior Gym on Hildebrand, a sweatbox gymnasium that looks like it was pulled straight out of Rocky.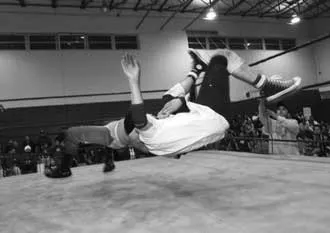 Johnny Ender (right), and Rudy Russo fall to the mat during a tag team match at River City Wrestling's Texas Explosion 2005 held recently at the Castroville road YWCA.
"Mr. Beautiful" Rudy Russo pins Johnny Ender to the ropes during a tag team match.
"I punched a kid in the nose and one, two, three, I was still the champ with my paper belt."
The third time his parents were sued for Cunningham's imitation of Gino Hernandez from Joe Blanchard's Southwest Championship Wrestling, the sport was barred from Ikaika's house.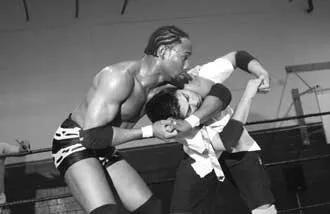 Quinten Allen (left) puts Johnny Ender in a head lock.
Kris Kronie, (left), Johnny Ender and "Mr. Beautiful" Rudy Russo, tumble out of the ring during a tag team match at River City Wrestling's Texas Explosion 2005.
"My father didn't want anything that had to do with wrestling in the house—on TV, toys, anything," said Ikaika, who only recently returned to the ring after he broke his back wrestling three years ago. "So I would go up to my grandma's house on the weekends and she had it recorded for me."
Although RCW wrestlers earn a paycheck, it is not the money that keeps Chris "Don Juan" Valenzuela in the squared circle. The San Antonio-born wrestler, one half of the tag team the Texas Treats, drives once a month to Florida to participate in other wrestling associations. Because the wrestlers are not under contract with RCW, they are allowed to compete in other professional circuits across the country, including Ring of Honor in Philadelphia, National Wrestling Alliance—Anarchy in Atlanta, and Premiere Wrestling Federation in Pottstown, Pennsylvania.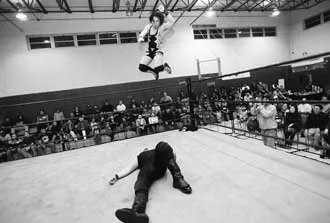 "The Spanish Announce Team's" Jose Maximo of New York, leaps off the ropes to body slam Chris Marval.
"We have to pay for the rental car and gas, so we lose money anyway," Don Juan, 27, said. "What we are doing this for is the exposure."
For most of the RCW roster, exposure means being in the ring, no matter the location of the venue, day-job commitments, and sometimes even family obligations.
Fast Eddie (top) dives onto Hector Montoya and Spector during a tag team match at River City Wrestling's Texas Explosion 2005 held recently at the Castroville road YWCA.
In 2002, Don Juan, who also works as a nightclub bouncer and as a collections representative at Chase Bank, had the chance to wrestle in Philadelphia with Paul Lodon, who is currently in the WWE, the same week his former girlfriend was scheduled to deliver their second child.
"I chose to go wrestle," Don Juan said.
"If you want to make it that's what you have to do."
Ikaika added, "It's that one time you say no, and the right eyes are in the audience that your opportunity is gone." •