Countywide arts fundraising based on United Way model hopes to raise $400,000
By San Antonio standards, theFund has moved faster than a speeding bullet. The force of Board Chair Bruce Flohr's easygoing charm is stronger than a locomotive. But only time will tell whether the new county-wide fundraising program for arts organizations can leap the well-documented stinginess of San Antonio's cultural philanthropy in a single bound. TheFund has compiled damning numbers that show San Antonio's per capita spending for the arts hovers at $2.78, while Austin manages to spend $7.97 per citizen, and Dallas, always the flashy big spender, spoils its cultural organizations with $11.92 per warm body.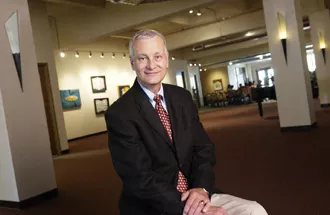 Roderick Rubbo, new executive director of theFund, pauses outside the organization's office in the Radius Building.
(Photo by Mark Greenberg)
On May 9, theFund announced the commencement of its first campaign a mere two years after County Judge Nelson Wolff adopted the idea from Toyota executives. Twenty-five local arts organizations already have been approved to apply for funding (applications were due June 1) and, as of press time,17 businesses, including SBC, Phyllis Browning Company, and UTSA, have agreed to let willing employees donate a portion of their pay to theFund through payroll deduction.
Modeled on the United Way, theFund will collect automatic payroll donations and disburse them over the course of the fiscal year to approved applicants. Participating businesses agree to let theFund conduct an annual workplace campaign to sign up new donors. "Because it is a federated-type campaign, the buy-in of the CEO" is the most crucial factor in the success of the campaign, says Executive Director Roderick Rubbo, who comes to theFund from the Canton, Ohio Cultural Center for the Arts. The Canton Center functions as an umbrella performing-arts center for the area's four major cultural organizations and runs a united arts fund campaign that netted more than $1 million annually by the time Rubbo departed.
San Antonio is several times larger than Canton, and the finish line on theFund's big red thermometer is a little higher. Flohr says that based on similar campaigns in comparable cities, in five years he expects theFund to raise a little less than $4 million annually in additional arts funding. He says theFund's first-year goal is to recruit 4,000 new workplace donors who will give $100 over the course of the year, allowing theFund, whose first-year operating costs are covered by separate donations, to give $400,000 to selected applicants.
The adjectives "new" and "additional" are crucial to Flohr, a self-made railroad tycoon who has been a long-time local arts patron. He wants to emphasize that any monies raised by theFund are meant to supplement, not replace, current funding sources such as City Hotel Occupancy Tax funds disbursed through the Office of Cultural Affairs and private charitable grants. Perhaps more importantly, Flohr wants to reassure fellow philanthropists that theFund is in the business of developing new donors.
"I had a meeting with one of the CEOs in town wanting to get a campaign going in their business, and he said, between my wife, myself, and our family foundation, we're giving lots of money to the arts. We just can't do anything more," recounts Flohr. "I said ... you've got a diesel mechanic out there in your shop, probably has a couple of kids who may have been involved in arts programs in high school; that fellow has never been asked to give to the arts before. That's the two dollars a week we'd like to have."
The list of first-year applicants to theFund will look familiar to anyone who follows OCA's funding process: Blue Star
Contemporary Art Center, Centro Cultural Aztlan, Jump-Start Performing Arts Center, Witte Museum, and the Esperanza Peace & Justice Center are among the organizations. The list of final grantees and amounts awarded won't be announced until late this summer, so it may be too early to be optimistic, but so far theFund has conducted business without a whiff of the controversy and angst that usually surrounds the City's funding process. Flohr and Rubbo believe this is because theFund's criteria lack the subjective variable of the City's peer-panel reviews. If an applicant meets the basic criteria, including a "commitment to broad-based community impact" (the "mom and apple pie" of arts organizations), it is eligible for a grant amount based on its annual budget. "I do want to make the point that what they've done so far has been very transparent, so that anybody looking for funding, anybody that's thinking about it, it's all right out there," adds Rubbo. "There were no backroom situations; `it was` all transparent, all up-front."
TheFund is also making conditional grants available to some organizations that meet all eligibility criteria except "fiscal responsibility," tacitly acknowledging that years of poor development have left crucial organizations structurally weakened. The San Antonio Symphony, not long out of bankruptcy, for instance, may still receive funds, but its use of those monies will be closely monitored.
According to Rubbo, Thursday, June 2, theFund will make its first workplace presentation, to Bexar County executives. But Flohr says fundraising continues year-round, even when it's not official campaign season. "We feel there's gonna be a residual situation," he says. "What we have to do is give their employees the trigger thought that theFund is something that we hope they'll contribute to," even if they don't sign up right away. Individuals who aren't employed at participating companies can also donate to theFund at any time through the website, thefundsa.org.
Flohr the businessman takes his cautious optimism from the numbers. Comparable united arts funds raise 10 percent of the local United Way's annual take. "My hope is that in five years San Antonio will become average." •
By Elaine Wolff