Rancho Pancho proves to be a rambly, never-ending story
When I was a kid I learned that a mouse named Amos was responsible for Ben Franklin's great ideas, as well as for the wording of the Declaration of Independence. That mouse, from the classic Disney short Ben and Me, scurried across my mind several times during the staged reading of Rancho Pancho, a new play by Gregg Barrios that opened and closed last weekend at the Church Bistro & Theatre.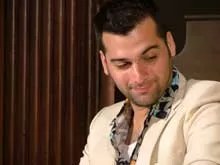 Eric Lozano plays Pancho Rodriguez in Rancho Pancho, written by Gregg Barrios.
What's the connection between an old children's cartoon and a heavily-researched play about Tennessee Williams and his long-forgotten border muse, Pancho Rodriguez?
They both turn historical figures into cartoons.
Rancho Pancho is based on real events. Pancho Rodriguez met Tennessee Williams in Piedras Negras in the 1940's, and the two were involved for a decade before breaking off contact. Pancho, Williams, and Carson McCullers (Massachusetts author of The Heart is a Lonely Hunter) spent time together in Nantucket, and Pancho was most likely the model for Stanley Kowalski in A Streetcar Named Desire.
There's a play in there somewhere, but this reading never quite fulfills the promise of its premise.
Barrios shows Williams as an icon, but not a character. You could play a drinking game to spot all the clever references to Williams's plays (an appropriate gesture, given the alcoholism of all the characters), but Barrios's Tennessee is a compilation of anecdotes and nothing more. Tim Hedgepeth's uncanny mannerisms lead us to expect something that the play doesn't deliver.
Similarly, Anna Gangai is all dressed up with no character, since the role of Carson McCullers seems to be merely a pretext for launching into anecdotes about Truman Capote and Katherine Anne Porter. It's a mark of solid acting and direction that, despite the script, the actors create an illusion of character depth and relationship in their physicality which goes above and beyond the limitations of the words.
Everything comes alive in the scenes with Pancho and his twin brother Juancho, which achieve a depth missing in the rest of the play. Unfortunately, this is undercut by several confusing lapses into fantasy where Juancho shows up in Pancho's imagination, leaving many heads heavily scratched in attempts to figure out what's really going on.
The point of view also jumps around, with Williams starting the play with a bit of monologue that's a cross between Blanche Dubois and Mike Hammer, then relinquishing the role of narrator to Pancho and Juancho, whose dueling narrations cover the rest of the play.
The second act begins with a pointless (and endless) scene in a department store, and much of the play consists of an epistolary breakdown (with much famous name-dropping) that seems better suited for a museum exhibit than a drama. While the audience responded with enthusiasm for local references to Spanish or Spanglish one-liners throughout the play, these distractions do little to make up for the lack of a dramatic point.
Rancho Pancho feels like a really long rambling anecdote, one that never finds the road to being a full-blown play. Gregg Barrios seems willing to leave the story waiting for another streetcar to pick up.