Fran Colpitt's final exhibit is a garden of paintings descended from the mural tradition
Fran Colpitt, chairperson of the Department of Art and Art History at the University of Texas at Austin, is (hesitantly) leaving San Antonio for a new teaching position in Fort Worth. Now, art isn't everyone's obsession, so to put it profanely, it would be like the Spurs losing Manu Ginobili. Colpitt, a contributing editor for Art in America, generates important exhibitions such as 2001's Glow: Aspects of Light in Contemporary American Art, and publications such as Minimal Art: The Critical Perspective. She fosters Minimalism, rigorous intellectualism, and, of course, her students.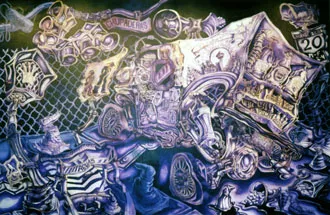 Wall paintings by Alex Rubio...
So it makes sense that her last exhibition project at UTSA would involve all of these. Wall Painting is the culmination of three years of planning and grant writing. It is big and splashy, and in its own way it retrieves painting from where it lies, gently brushed aside by avant-garde taste for installation art and new media. Wall painting as a practice descends from ancient fresco painting, but today's version is meant to be less permanent. Rather than becoming one with the wall material like fresco, it is generally applied onto the surface and stripped off after an exhibition.
Nine artists have been descending on San Antonio in shifts throughout the summer to work on their impermanent paintings. Fourteen graduate students enrolled in a summer class that allowed them to organize the details for the show. They formed committees to take care of the artists' personal and material needs, prepared the walls, and worked alongside the artists, who came for an average of three days to execute their paintings. They have also been documenting the works and compiling the show's catalogue and press materials.
...Jane Callister...
The artists come from a range of cities but all have previously explored wall painting. Yunhee Min lives in Los Angeles but returns to San Antonio, where she is a curatorial favorite for major shows, with familiar bold stripes of color in tones seemingly derived from flesh and bubblegum. Colpitt points out Min's immaculate taping technique and perfect lines. Her work is about color, so she remixed her colors to suit upon her arrival. Needless to say, Sherwin-Williams' domestic palettes were tested for this show.
Aaron Parazette is known for his abstracted wave paintings that resemble mod introductions to classic James Bond films. He created a wall painting last year for his show at Houston's Contemporary Arts Museum, and his piece in the UTSA gallery shows a similar blue wave. Its large scale creates a sense of vertigo for the viewer, who would fit neatly inside the eyewall of the arcing wave.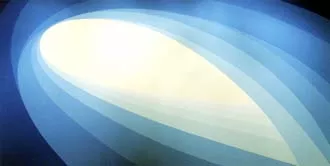 ...Aaron Parazette...
Bernard Brunon is a conceptual artist from France who lives in Houston and has a conceptual-art-based house-painting business called THAT'S PAINTING Productions. Brunon distills high-flown color theory and French theoretical discussions into work whose profound Being and Nothingness is so grounded in reality it's easy to miss. For his participation in UTSA's exhibition, he arrived and painted the spaces between wall paintings white - the same gallery white that sits in cans in the utility closet. His performance, as well as the techniques of other artists, was documented on film and will be shown in the exhibition.
Francesca Fuchs (Houston) has painted an immense, yet intimate, painting of a breastfeeding baby. Her shapes are large and colors calm and flat, so the painting is as soothing to the viewer as a pacifier. Jim Osman (New York) uses similar soft tones and flat shapes. He used a different technique, though, mixing colors into joint compound and troweling them onto a four-sided gallery column.
...Yunhee Min.
WALL PAINTING

Sep 1-Oct 16
Free

UTSA Art Gallery
Located in the Art Building
at 6900 W. Loop 1604
458-4352

Jane Callister (Santa Barbara, California) mailed her poured acrylic paint stickers to the gallery and students applied them according to her directions. Similarly, Monique Van Genderen (Los Angeles) worked mostly with vinyl transfers to create floating shapes on two walls. Contrasting with this relative ease of application, San Antonio artist Alex Rubio is in the midst of a massive work that stands out for its intensity. Rubio is the only one in the exhibition that comes from a Latino mural tradition and his work is expressive of low-rider culture. He is working on canvas affixed to the wall this time, so his work will be the only one to survive the exhibition. His team of assistants has been working with Renaissance techniques, using grids and monochrome underpainting. At press time, LA artist Keith Sklar was the last to carry out his project, but his will likely relate more to Rubio's style than the others.
The show opens September 1 and runs for six weeks, after which the works will disappear. Perhaps this is a parting lesson from Fran Colpitt about living large and embracing the impermanent. •