This morning, as expected, Gov. Rick Perry signed an extremely restrictive anti-abortion bill into law amid a mounting lawsuit against the legislation.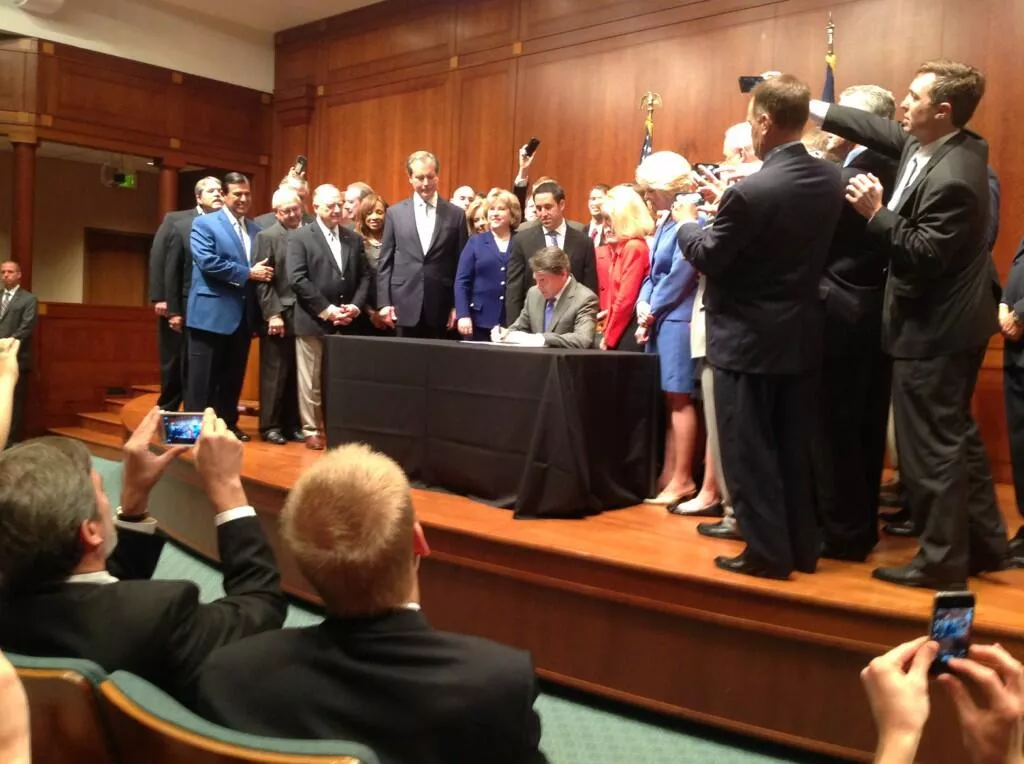 Gov. Rick Perry signs one of the country's most abortion-restrictive bills into law. It's expected only five abortions would remain when the law goes into effect. Photo courtesy of the Office of Gov. Perry
The all-in-one omnibus legislation, passed by Senate (as Senate Bill 1) and House (as House Bill 2) GOP majorities during the recently ended second special session, outlaws abortion at 20 weeks of pregnancy, requires hospital admitting privileges for abortion doctors, insists patients follow outdated FDA protocol when taking abortion-inducing drugs and compels abortion clinics to comply with the same standards as ambulatory surgical centers (ASCs). The ASC standards threaten closure of 37 of the state's 42 clinics.
In an Orwellian statement, Perry said it was an, "important day for those who support life and for those who support the health of Texas women," despite overwhelming opposition by major medical and health organizations like the Texas Medical Association and the American Congress of Obstetricians and Gynecologists.
"In signing House Bill 2, we celebrate and further cement the foundation on which the culture of life in Texas is built," said Perry.
Sen. Wendy Davis (D-Fort Worth), of anti-HB 2 filibuster fame, responded to the official passage of the bill in a statement.
"When Gov. Perry signed the bill, he signaled a clear break with Texas families," she said. "Gov. Perry and other state leaders have now taken sides and chosen narrow partisan special interests over mothers, daughters, sisters and every Texan who puts the health of their family, the well-being of their neighbors, and the future of Texas ahead of politics and personal ambitions"
Meanwhile, a potential lawsuit is brewing against the onerous restrictions. Reproductive health care leader Amy Hagstrom-Miller of Whole Women's Health, who operates five clinics—including one ASC in San Antonio—is mounting a legal challenge to the bill. She says she's in talks with attorneys at the Center for Reproductive Rights, who have filed similar lawsuits across the nation, to develop a case against the restrictions with the aim of securing an injunction on the law.
All four parts of Texas' bill have been challenged in other courts around the country, the Current recently reported. But while precedent is there, the notoriously conservative Fifth Circuit Court of Appeals could pose a serious barrier for abortion rights advocates, "It's no secret that anti-abortion folks really want it to be challenged in the Fifth Circuit," said Hagstrom-Miller.
Hagstrom-Miller's clinics and other abortion care providers are "furiously" working on contingency plans to keep their centers afloat. When the law goes into effect, non-ASC clinics would likely be forced to shell out anywhere between $1.4 million (in building upgrades) to $3 million (for a new building) in facility costs to comply. Since most centers are local small, independent businesses, those price tags seem nearly impossible to fund at this time.
"It's no exaggeration that we're going to go down from 42 sites to five—maybe," said Miller. "It's actually going to be less than five, with a combination of admitting privileges, the 20-week ban and ASC requirements, it creates a perfect storm."