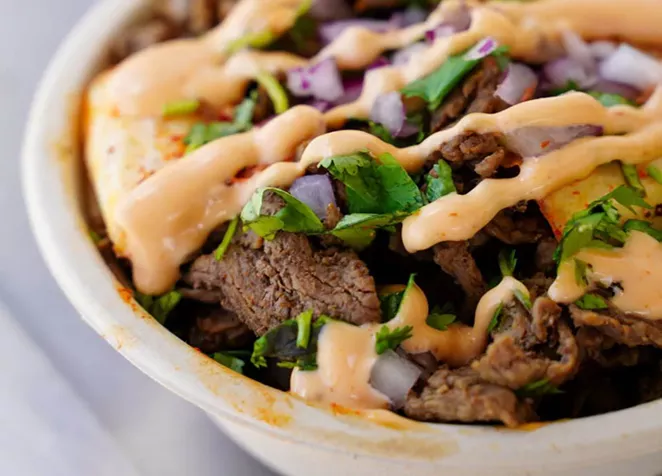 Courtesy Coreanos
Coreanos' B.A.P features seasoned rice, marinated beef bulgogi, spicy marinated chicken with onions, cilantro, cheese and El Scorcho sauce.
Food Network-lauded Mexican-Asian food truck purveyor Coreanos will bring its fusion cuisine to Northwest San Antonio next week, marking its first expansion outside of the Houston area.
The food truck operator's spicy spin on fusion cuisine — featured on Food Network's
Unique Eats
and
Food Paradise
— will be available for half price during the Saturday, November 14, grand opening of its SA truck.
Staple menu items at Coreanos include the Kimcheese Fries, which are loaded with a choice of protein (beef bulgogi, Korean-style chicken or Korean-sautéed Tofu) along with caramelized kimchi, onions, cilantro, cheese and its fiery El Scorcho sauce. The truck's OG Burrito includes Korean marinated bulgogi loaded with crispy fries, cheese, pico de gallo, kimchi, cabbage and spicy mayo.
The new truck will be parked at 7038 UTSA Blvd. from noon to midnight daily.
So many restaurants, so little time. Find out the latest San Antonio dining news with our Flavor Friday Newsletter.