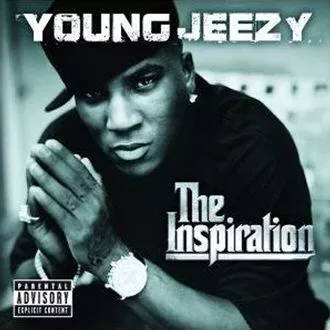 The Inspiration
Young Jeezy
(Def Jam)
Young Jeezy has never been shy about his desire for wealth, and he makes such sentiments clear right from the start of
The Inspiration.
The opener, "Hypno-tize," with its repetitive hook of "I command you niggas to get money," sets him up as half-hustler, half-motivational-speaker. Problem is, he can't quite figure out how to make these two identities mesh throughout the album without contradicting himself.
Jeezy boasts about his exploits and calls others out for not being as "real," then apologizes for all the cocaine he's slung and harm he's done, then ends by encouraging his listeners to follow their dreams using whatever means necessary. It's all rather confusing, not helped by the fact that the emcee's not exactly known for his quick-witted raps (saying "I ad-lib here, I ad-lib there/fuck it, ad-libs everywhere" is not the same thing as actually ad-libbing, which would at least liven things up a bit).
Pair this muddy philosophizing with heavily orchestral beats that rely on synth strings and flat, empty percussion to buoy Jeezy's belabored flow, and you've got something that, while it may be "street," is also slow and anti-climactic. It's neither fun nor thought-provoking, kind of purposeless, and not very inspirational. More like thug un-motivation.
— Marisa Brown
---
Here & Now
America
(Burgundy Records)
When it comes to pop music, critical perspective is almost wholly dependent on your date of birth. For example, if you were born in the 1950s, you probably viewed KISS as a cheesy, derivative cartoon band with a lot of crummy songs. If you were born in the mid-to-late '60s, you probably continue to believe that they were the most awesome rock 'n' roll band of all time.
The same point applies to the great easy-listening scare of the '70s. The Carpenters seemed like the epitome of dorky pap at the time, but by the mid-'90s, they were being lauded by the hip likes of Sonic Youth. Now we're confronted with an unlikely alt-rock celebration of America. That's right: the group that named itself after a continent; the group whose idea of a clever conceit was to begin their album titles with the letter "H"; the group whose most memorable lyric — "cause there ain't no one for to give you no name" — has compelled countless English teachers to pull out their hair in exasperation.
For their new album, America enlists the production services of Adam Schlesinger (Fountains of Wayne) and James Iha (ex-Smashing Pumpkins) and studio cameos from Ryan Adams, Ben Kweller, and My Morning Jacket's Jim James. Who knew this pleasantly bland group had so many secret fans?
At heart, America was always a smoother, lighter Crosby, Stills & Nash, a melodious option for people unsettled by the raucous ferocity of "Our House" and "Teach Your Children." Dewey Bunnell provided the profound social statements, the songs about what Oz gave to the Tin Man and what it feels like to ride through the desert on a nameless horse. Gerry Beckley was the bespectacled romantic, the mellow Graham Nash of the group. Both of them were lousy lyricists, but Beckley's modest pop always went down easier than Bunnell's self-important folk. That remains true on Here & Now.
To Schlesinger and Iha's credit, they don't try to toughen up the America sound. The gentle strums and billowy harmonies are just the way you remember them. The hooks, however, have gone missing. It's a bad sign that the two best songs on the album are written by Schlesinger ("Work to Do") and James ("Golden"). Bring on the Bread revival!
— Gilbert Garcia