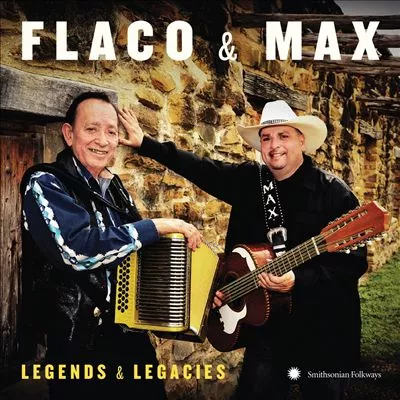 Flaco Jiménez has come a long way since he was introduced to the world of conjunto music as a five-year-old via his father, and so has Max Baca of Los Texmainiacs, who first performed the bajo sexto guitar with "El Flaco" at the age of 27. Their latest work proves it.
Flaco & Max: Legends and Legacies, a 17-track celebration, comes out this Tuesday. It's a reunion of sorts, though Baca and Jiménez never could quit one another. Even after scoring a Grammy award with his own band, Los Texmaniacs, Baca continued to play bajo with Jiménez, a Grammy winner in his own right, and the accordion mentor enthusiastically shared the stage with Los Texmaniacs.
Throughout Legends the duo teases conjunto's natural dance appeal, especially on the album's track, "Cada Vez Que Cae La Tarde." Written by Jiménez's father, Santiago Jiménez, the up-beat love song jumps right into accordion riffs lightly salted with Baca's guitar strumming. As the song progresses, Jiménez takes advantage of every opportunity to press his accordion melodies. This being a Jiménez-and-Baca joint, Baca mirrors Jiménez's time on this song as they battle through accordion and guitar riffs between choruses.
Their "Margarita, Margarita," cover strips down the song to let its vocal harmonies shine.
The strumming of Baca's bajo accompanied by Jiménez's flowing squeeze box notes lends a more simplistic feel to the song compared to other versions of it, such as the horn-heavy rendition by Little Joe y La Familia.
Another stunner is the lovelorn "Me Voy Lejos." Your traditional drinking and slow-dancing ranchera not only highlights Baca and Jiménez's ability to harmonize such different instruments, but their voices as well. It's one of several classics on the album passed down to these virtuosic players by their fathers.
Other standout tracks include "La Mucura," which Jiménez once performed with Freddy Fender, and "El Pesudo" which Jiménez recorded in the early '90s.
The project is yet another released by Smithsonian Folkways in their Tradiciones/Traditions series, a 12-year-old partnership with the Smithsonian Latino Center. While the album is something special, seeing the duo's chemistry in person is not to be missed. Jiménez is recovering from having surgery earlier this month, and the next known public performance by the pair will be all the way in The Woodlands on March 1 for their album release party. Another legend, Augie Meyers, will join the group for a special performance that includes a three-course dinner. For more information, visit the venue's ticket page.