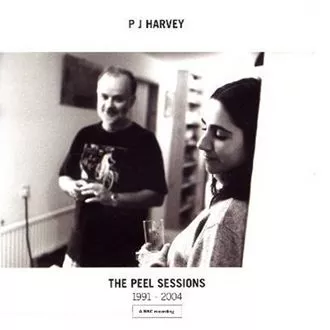 Peel Sessions:
1991-2004
PJ Harvey
(Island Records)

"You snake you crawled between my legs," PJ Harvey fumes on "Snake," spite mixing with her tears. The choppy guitar progression behind her vocal helps elevate the
Rid of Me
-era track to a terrifying level — it's blues, it's religion, it's stripped-down hardcore punk, and it's live.
Besides being a tribute to the late, legendary BBC DJ and his knack for capturing exciting performances, this collection of Harvey's Peel Sessions is a treasure for how well it reminds us of her early material, and how formidable she could be in person. Later albums like Uh Huh Her (2004) or Is This Desire? (1998) are still great, in their own way. That's not disputed. But Rid of Me and Dry, Harvey's 1992 debut, were something more — righteous and rocking, challenging, damaged and proud, they represented the riot-grrrl ethos as it sounded coming out of an Englishwoman willingly haunted by a bluesman's soul.
Peel Sessions includes stunning versions of "Water," "Victory," and "Sheela-Na-Gig," a yowling "Wang Dang Doodle," and a quieter but no less gripping take on "That Was My Veil," which originally appeared on Dance Hall at Louse Point, Harvey's 1996 collaboration with guitarist John Parish. It's a requirement for fans. But it can be an introduction, too — even if she hasn't been much for recording or performing lately, Peel Sessions 1991-2004 reminds us that Harvey can come back from the dead whenever she wants (she's recording her new album now), and still totally destroy.
— Johnny Loftus
---
Knives Don't Have
Your Back
Emily Haines
and the Soft Skeleton
(Last Gang Records)

If you happen to be sitting around somewhere and spot a copy of Emily Haines & the Soft Skeleton's
Knives Don't Have Your Back
sitting on a coffee table or end table or dinner table or, hell, any kind of table, then you should pick it up immediately — if only to enjoy what truly beautiful CD packaging can look like. In fact, it's entirely possible that you might mistake this CD for a small, quirkily shaped book. Perhaps a book of poetry, which is sort of what it is.
There's a book cover, glued-in lining, liner notes like pages of a book, and a thick CD board to hold, you know, the CD. Everything here wants you to feel like listening to Knives is a lot like reading something delicate, something worth consideration, something that might stick with you like an Emily Dickinson poem. The thing is, it's not just "a lot like" it, though. That's pretty much what happens once you hit play.
Haines, of Metric and Broken Social Scene, offers up a solo effort rife with musings on everything from death, life on the road, her moderate fame, and belonging … or lack thereof. This comes wrapped in an ethereality that would've made Elliot Smith smile for once, but is also backed by piano that, despite being the emotional heart of the album, sounds utterly isolated even from the accompanying lyrics and music. In fact, that's how Haines's whispery, unemotive voice sounds, too: isolated, like she's singing for no one but the walls in her bedroom. The dissonance of these juxtaposed parts is jarring, haunting, even elegant as she tackles everything from the regression of the feminist ideology ("The Lottery"), the pharmaceutical handicap of psychiatrists ("Doctor Blind"), and the irony of being miserable even as you watch all your dreams come true ("Reading in Bed").
— Cole Haddon