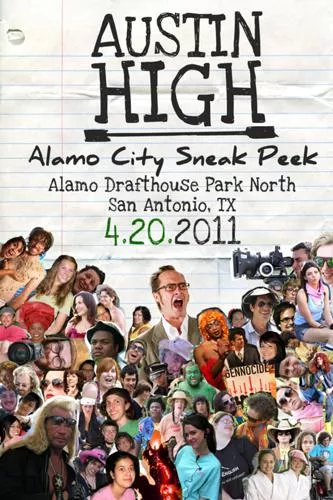 Filmed entirely in Austin,
Austin High
was directed by Alan Deutsch and co-written by Will Elliott (from San Antonio), Kirk C. Johnson, and Michael S. Wilson. At times hilarious, it is a stoner comedy dealing with a bunch of high-school students battling conservative efforts to eradicate the city's emblematic weirdness. I never laugh at movies, even those comedies I do enjoy (I just sit there with eyes and mouth wide open, amazed at what I see). But I did laugh at this one, despite a predictable ending and the usual "we-could-have-used-a-few-more-takes" acting problems all low-budget films have. But some of the dialogue is dynamite and the movie looks gorgeous. Imagine the "smell" of Richard Linklater's
Dazed and Confused
mixed with the crazy characters of John Water's
Hairspray
(the original, not the bullshit remake) and the edge of Todd Solondz's
Welcome to the Dollhouse
, and you get an idea of what
Austin High
feels like. Why in the hell the screener has a tagline that reads "Based on the novel
Push
by Sapphire," was a mystery to me (Is it a joke? Where they stoned when they wrote it? Are they still stoned? Is this legal? The tagline, I mean). After several attempts to contact him, Elliott finally explained: "Yes," he said in an email, "'based on
Push
' is indeed a joke. :)" But, dude, aren't you afraid you'll get in legal trouble for this? "I think getting sued by Sapphire would be great press for us. So far, legal hasn't shot us down, but I suspect that part will be removed once we sell the movie." If this is what the co-writer says in real life, just imagine what his characters do in the movie.
Austin High
screens in San Antonio on Wednesday, April 20, at the Alamo Drafthouse Park North (618 NW Loop 410) at 7:30 pm. For tickets, call (210) 677-8500 (dial ext. 2 for Alamo Park North, then 2 for the box office) (E.L.)