Photo Courtesy of the San Antonio Police Department
Drug traffickers have devised a way to make bud extra tasty. In what can only be described as puro San Antonio, authorities intercepted an 18-wheeler downtown hauling poblano peppers that were packed with over 5,000 pounds of pot.
Authorities discovered that the spicy produce was wrapped around 95 bundles of marijuana during a traffic stop Thursday at 1 a.m. at 4th and Broadway.
As reported by KENS 5, law enforcement decided to search the rig after the driver and passenger presented inconsistent stories. No word on whether passenger was heated while the driver was really, really mellow.
The trailer was towed to the San Antonio Produce Market off Zarzamora Street so a full search the truck and its cargo could be conducted. The Drug Enforcement Administration assisted San Antonio police with the bust because of the size of the haul.
The 18-wheeler embarked on its trip in Harlingen, but authorities are unclear as to its final destination. Also unclear is whether or not the traffickers intended to make a gigantic batch of pot rellenos that contained both a fiery kick and a heady buzz.
The majority of Americans (and Texans) support marijuana legalization. President Barack Obama stated recently that he thinks pot is no more dangerous than alcohol, and Governor Rick Perry surprised just about everyone when he threw his support behind marijuana decriminalization. Nonetheless, trafficking marijuana is still very much illegal, and transporting multiple tons of weed is generally frowned upon.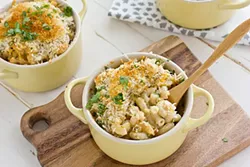 Of course, poblano peppers are delicious and you can do so much with them. In fact, here's a recipe for some decadent poblano macaroni and cheese. Weather or not you replace the unsalted butter with cannibutter is between you, God, and possibly law enforcement.