Sat 1/31
Du Yun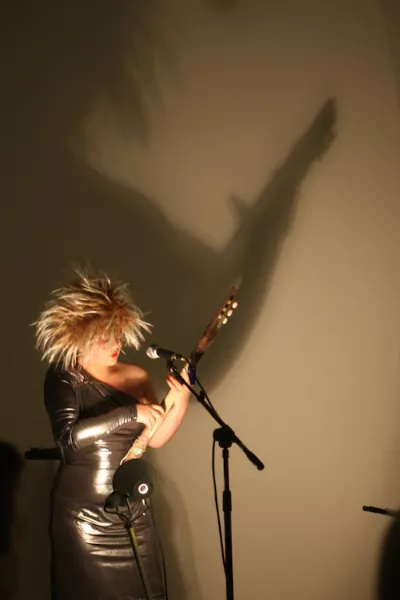 Courtesy
Du Yun performance of Shahzia Sikander's film The Last Post at the Linda Pace Foundation in 2012
With its melange of shifting layers, surreal figures and "singing spheres," Pakistani-born, New York-based artist
Shahzia Sikander
's 15-minute animation
Parallax
doesn't exactly spell out its historical inspiration (maritime trade and colonial occupation in the
Strait of Hormuz
). But don't let the conceptual challenge deter you from tackling her three-channel video, which made its U.S. debut here in the Alamo City when the Linda Pace Foundation acquired it last year.
Comprised of hundreds of digitized drawings, Sikander's ambitious offering is set to a signature score composed by multi-instrumentalist and performance artist Du Yun. Born in Shanghai and based in New York, Yun unveiled her
Parallax
soundtrack at the 2013 Sharjah Biennial during a live performance featuring contributions from poets Abdullah Al Hedeyeh, Shaikha Al Mutairi and Hamsa Younis.
Known for genre-defying works that exist "at an artistic crossroads of orchestral, chamber music, theater, opera, cabaret, storytelling, pop music, visual arts and noise," Yun visits LPF's sleek SPACE gallery this Saturday to offer live musical accompaniment for two screenings of
Parallax
followed by refreshments and opportunities to meet the artist.
Free, 3:15pm & 3:45pm Saturday, SPACE, 111 Camp, (210) 227-8200, lindapacefoundation.org.