Aztlan Libre Press
is the San Antonio-based small independent press run by Anisa Onofre and Juan Tejeda. The duo is driven by their dedication and preservation of Chicano literature and art, which has enabled them to work on projects that not only speak to them but also the community. Aztlan Libre's first publication,
Tunaluna
, earned rave reviews and introduced a new generation of Chicano readers to seminal poet, alurista. Their current publication,
Aztec Calendar Coloring Book/The 20 Day Symbols of the Aztec Calendar with their Names in Nahuatl, Español, and English
, is a notable departure from their inaugural publication but promises to be "a gift to children of all ages, and all colors." The 20-day signs included in the coloring book are comprised of black and white computer-enhanced line drawings of the Aztec symbols representing crocodile, wind, house, lizard, and more. The following are a few questions posed to Anisa and Juan in regards to their recently published coloring book. This is Aztlan Libre Press' second publication, what inspired you both to tackle the task of putting together a coloring book?
AZTLAN LIBRE PRESS:
We felt that it was important that our daughter Maya Quetzalli, and all of our children, regardless of age, have a fun, creative and educational way to think about who they are and where they come from, and also to think about the importance of the arts and language. It is important for Chicano children to know that they are American Indians first, then mestizos, part Spanish, then Mexicans, then Mexicans in the United States of America, Xican@s. I know Aztlan Libre's mission is to "promote the publication and free expression of Xican@ literature and art," how important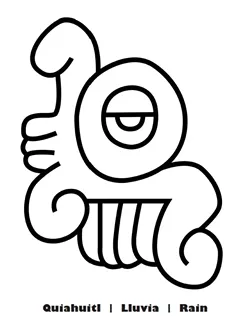 was it to include Nahuatl (the language of the Aztecs) in the coloring book?
AZTLAN LIBRE PRESS:
In terms of language, we are in the process of recovery. Some Chicanos have lost their Spanish language, much less Nahuatl, one of our indigenous languages. It is importan
t to
have this historical memory. The
Aztec Calendar Coloring Book
is a simple, fun, and creative way to learn about our American Indian culture and heritage, as well as the names of the 20 day symbols of the Aztec calendar in three languages. Where can people purchase the coloring book?
AZTLAN LIBRE PRESS:
The easiest way to purchase the Aztec Calendar Coloring Book is through our website at
www.aztlanlibrepress.com
however, we plan to distribute it to local bookstores and Mexican arts and crafts specialty stores and local markets for the upcoming Christmas sales, such as the Esperanza's
Peace Market
and the Guadalupe Cultural Arts Center's
Hecho a Mano
. What are a few upcoming projects is Aztlan Libre Press is working on?
AZTLAN LIBRE PRESS:
Aztlan Libre Press is currently working on
Nahualliandoing Dos
, an anthology of collected poetry in three languages, Nahuatl, Español, and English; and our first Xican@ Art Card Series with Vincent Valdez.
--Jennifer Herrera
Got any local literary leads? Send 'em our way, e-mail liturl@sacurrent.com.