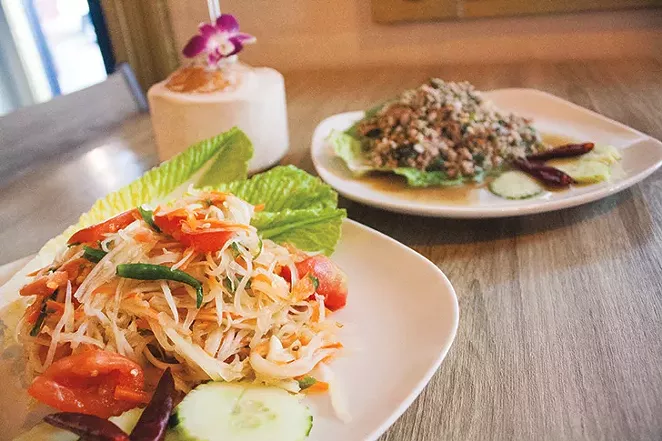 Sarah Flood-Baumann
This somtum will be great in your tum-tum.

Baan Esaan's Albert Smith is a cocky, confident guy. Half Anglo, half Thai, he handily spins tales about trekking through Thailand's vast Esaan province, learning about the cuisine and culture and teaching the locals a thing or two about cooking. The rest of us need to learn a thing or three, at least.
Esaan (sometimes spelled Isaan — or simply Isan) is the kingdom's easternmost region, bordered on three sides by Laos and Cambodia. It's poor, little visited, and, from most accounts, not necessarily high on one's Asian bucket list (though locals and expats would doubtlessly disagree). The hardscrabble cooking that results from what The Rough Guide has called "appallingly infertile soil" is nevertheless both vibrant and subtle, qualities that are equally on display in Baan Esaan's dining room.
At the head of Baan Esaan's menu is somtum, the spunky-spicy salad of green papaya that is an Esaan specialty. (There are eight varieties of it on the menu at Somtum Der, a well-reviewed Isan restaurant in NYC.) As served here, the salad – laced with shredded carrot and presented with romaine leaves that accompany many dishes – is a marvel of limey, fish-sauce flavors played against the papaya's clean crunch. Smith also offers an all-carrot version, which can be skipped, but the rendition with slivered Granny Smith apple is, surprisingly, a more-than-worthy alternative.
Laab, also known as larb, is another northeastern favorite, one that also happens to be the national dish of neighboring Laos. It's available with minced beef, pork or chicken, and I have to assume that all three are treated equally as I've never made it past pork; it's just too good. Lime, lemon grass and mint dominate, and the heat level can vary depending on the aggressiveness of that day's chiles. My advice: stick to medium heat but be prepared to tolerate variances.
Let's now get sticky rice out of the way. It's traditional, it's served in a crafty little lidded basket … and it's very springy. Sorry, not my thing. Formed into patties, lightly seasoned and grilled, it takes on a more appealing aspect and serves as a perfect platform for a smear of jaew bawng. You don't know jaew bang?
Neither did I. On the menu it's called "Esaan style spicy dipping paste," but good luck with the dipping part. As I said, the stiff and sultry paste is great for smearing, and once tasted you'll want to slather it on everything — no holds barred. Also Laotian, it's made from galangal (similar to ginger), chiles, what tastes like the equivalent of a little piloncillo and, wait for it, water buffalo skin. Smith's aunt, who makes it from a recipe that he claims not to fully know, actually prefers cow skin, he says. (This family enterprise, by the way, also finds Smith's mother in the kitchen and his wife at the front of the house.) Do not be deterred. Order it. Help me convince them to bottle it. The listed tomato dipping sauce, though perhaps actually dippable, is not currently available, FYI.
Some of Baan Esaan's other offerings are less in your face — the fried, chopped Baan Esaan short ribs for example. They're chewy, mildly seasoned and great with the beer you will have thought to bring. Just a little more aggressive, but nevertheless still sophisticated, are the marinated street-style wings. Right on the edge of being undercooked, they're moist, moderately spicy and nowhere near as sticky or crusty as the (non-water) buffalo version. Outright great is the kaw moo yang, which translates as marinated and grilled pork shoulder. This is traditionally made with pork neck (but, hey, the neck bone is connected to the shoulder bone) and is sometimes presented with a spicy fish sauce, lime, chiles, traditionally a little palm sugar and toasted, cracked rice. Best of all, however, may be the Baan Esaaan sausages, cured, fried and bursting with lemongrass flavors. In a display of naked confidence, they are served only with lime and Thai bird chiles. Yes, you must.
The curious but cautious diner is directed first to the $10 lunch specials. There are three meat choices, among which I recommend the laab of choice, a somtum (the all-papaya will cost a dollar more), and, for an extra two bucks, you can do all the sauce slathering a small-sized ping pong ball of jaew bawng will allow. Fresh coconut juice served from the actual coconut will add $5 but pay you back in full in bragging rights. Nothing wrong with bragging when it's deserved.
Baan Esaan
1035 S. Presa St., 210-354-3772,
Hours:
11am-3pm & 5-9pm Tue-Thu; 11am-3pm & 5-10pm Fri-Sat Cost: $8-$10
The Skinny:
Baan Esaan specializes in food from Thailand's northeastern region, bordering on Laos and Cambodia. Specialties range from green papaya salad to minced pork and sultry sausages. Best Bets: somtum (papaya salad), pork laab, Baan Esaan sausage, marinated pork shoulder, jaew bwang sauce.