Back to the grind people... I spent the month of December in hibernation from technology to work on my list of many artistic failures.
I'd like to thank everyone who filled my inbox with queries for Bad Advice and also apologize for not being able to answer all of them.
For those I got too drunk to write back to let me offer this simple advice that I feel can be used for many problems life throws our way.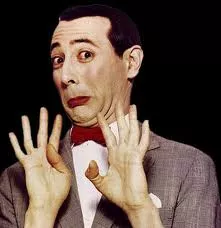 When in doubt, just whip it out ... worst that can happen is you'll have to wait 20 years to stage a comeback.
Dear Whitecotton
I am currently pregnant and thinking about having an abortion. I think that the decision to abort is an intimate decision that a woman should make with her doctor, but I need advice.
—
Unlucky with a Diaphragm
Unlucky with a Diaphragm? Is that an Indian name? Apparently you didn't know when to stop saying 'hit me' in poker.
I must insist that you do NOT have an abortion. While normally I have no problem with life's 'get-out-of-jail-free' card, I have to take in account that there are just so few Native Americans left in this world. If anything I say you should procreate more. Seriously, I'm tired of feeling guilty every time I'm forced to watch 'Dances With Wolves' (or any Kevin Costner movie for that matter).
If Indians stop producing children who will be our 'Wind Talkers' the next time there's a world war, huh? Thirty-year-old virgins obsessed with Sci Fi and World of WarCraft? I think not!
You can't win a war using terms like 'LMAO', 'NOOB', and 'a warrior Buttsecksed' For one, the Master Sergeants would be too busy kicking our own asses to fight the enemy and two you can't win a fight with fingers stained in Cheeto dust and Monster Energy Drink. Science Fact.
Dear Whitecotton
I have a problem. I have recently gotten engaged to a woman who has been depressed for the last couple of years. Our sex life is terrible, but I have been supportive and hoping that she might come out of the depression and the sex problem will get better. It hasn't been working.
To make matters more difficult, an extremely attractive and fun friend of mine has started to flirt me to death. Her ex-boyfriend tells me she has an enormous appetite for sex. She'll quit it if I ask her to, but the thing is that I've had a crush on her for 3 years. I guess I love the girl I'm engaged to and I'm in love with the friend. I feel I'm at a crossroads in which I'm going to make a tremendous mistake. You don't have to advise me on what to do if you don't want to. I'll settle for wisdom. Thanks.
—
Jeremy M.
Why would you ask a severely depressed bad lay to get married the most depressing and soul sucking institution known to mankind?
If you really want good sex, the LAST thing you want to do is get married. Most women typically can only have satisfying sex when they think they're going to get something out of it. Like a ring or a car payment. It's why after marriage they become barren wastelands of carnality.
Just look at any long term married couple look in the husband's eyes they look dead don't they? Quite the contrary, in fact they are filled to the brim with the life of unfinished blow jobs and shattered expectations.
For the best booty you need to explore this flirty over-sexed friend of yours, but be careful. Usually girls who heavily flirt fall into two completely opposite camps. They either put out with great enthusiasm, or their vaginas are like forgotten clam traps off the coast of Maine. Cold and dried up.
It can be very tough trying to figure out which one is which because they both constantly use the word 'I' in conversation and were molested before the age of 12. Let this little guide help you in the course of your investigation.
The girl with the bad taste in music is most likely to put out, while the girl who likes Japanese anime and Pocky is usually the cock tease.
Dear Whitecotton
Sometimes when I am alone at night, I touch myself in an impure way. I seem to have no control. I want to stop because God and Jesus don't like it, but I can't! How can you help me?
— Tim, Age 14
There's a lot of debate about masturbation and what the bible actually states on the matter. After some research (i.e. Google), I couldn't find any specific commandments on the matter. If you are truly religious then you should probably consult with a Catholic priest. Put yourself in his hands and let him fiddle around with the idea until you both come to a mutual compromise.
Personally I think Jesus is OK with it. There can't be any better hands for self pleasure then those bearing the mark of stigmata.
Regardless, I think the safest compromise you can make with your natural and spiritual needs is if you actually masturbate TO the Bible, but please be careful. Those pages are quite thin and a BITCH when stuck together.
---
If you would like some advice from someone who has no business giving any send to:
facebook.com/jaywhitecotton