Aquifer, tax freeze top ballot proposition debate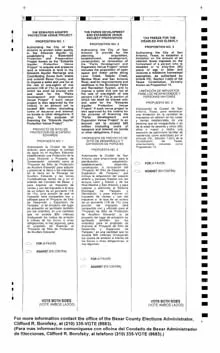 Click on the ballot to see an enlarged image.


I
n more ways than one, it's fitting that Proposition 3 on this year's election ballot is also referred to as "Proposition 13."
The proposed measure, which freezes city property tax rates for local senior citizens, is a direct response to Proposition 13, a state constitutional amendment approved by Texas voters two years ago. Proposition 13 allowed property tax freezes for seniors - previously limited to school taxes - to extend to city and county taxes.
In a way, Proposition 3 recalls a different, much older Proposition 13. That proposition, passed by Californians in 1978, signaled the beginning of a taxpayer revolt in America, providing the first major salvo in a conservative uprising that reshaped American politics over the last quarter-century. Proponents of California's Prop 13 equated it to the Boston Tea Party. To them, the people of California had seized their rightful power from out-of-touch politicians.
The reality was far messier and more complex. Resulting budget shortfalls subsequently crunched services throughout California, and the state has gone from being a beacon for public education to one of the poorest education funders in the nation. Also, by freezing property tax rates until a home is sold, Proposition 13 placed a tremendous and highly disproportionate burden on new homeowners, and tended to lock people into their current homes indefinitely. Its greatest benefits, according to several studies, went to major corporations and not individual homeowners.
The comparison applies to San Antonio's Proposition 3, because it is also being hailed by supporters as much-needed relief for those on fixed incomes, but its fine print carries a price tag.
"It's a two-sided issue for me," says Gloria Andrade-Merrell, owner of Andrade Business Consultants. "I am a senior citizen and a business owner. From that side, it would be very positive. But on the other hand, I think that the disparity, the inequity of the way that we're looking at the tax freeze is that it's a blanket, across the board.
Proposition 1 shapes up as a classic battle between those who argue you can't put a price tag on conservation, and those who counter that taxpayer protection is a more urgent concern than the city's water supply.

"We're grouping people 65 and older in a low-income bracket and a house at a lower value as opposed to someone who's 65 in a higher bracket with a higher-priced home. It just doesn't sit well for me from an ethical standpoint. Isn't there some way of apportioning a different tax benefit for those in a lower versus a higher bracket? We need something where it would be a win-win for our city as a whole, rather than a segment."
Express-News columnist Roddy Stinson, with his usual gift for demagoguery, has blasted local electoral candidates for failing to support Proposition 3: "Why the deafening silence? Because every politico's nightmare is a law that limits the amount of money government officials can seize from some and give to others." Failing to note that seniors in San Antonio already receive a $65,000 exemption and an estimated 53 percent of local seniors pay no city taxes, he frames the issue in a simplistic pro-seniors vs. anti-seniors manner. It's exactly the kind of manipulation that Republicans long have accused Democrats of pulling with Medicare and Social Security.
If, as Stinson argues, Proposition 3 is "every politico's nightmare," Proposition 1 could qualify as his nightmare. A proposed 1/8-cent sales tax increase to provide for the purchase of land over the Edwards Aquifer, it shapes up as a classic battle between those who argue you can't put a price tag on conservation, and those who counter that taxpayer protection is a more urgent concern than the city's water supply. The proposition, which will raise up to $90 million, has split San Antonio's Greater Chamber of Commerce, which opposes it, and the local Hispanic Chamber, which supports it. In its press release, the Chamber of Commerce emphasizes its support for aquifer protection, but adds: "There is no 'end game' - no master plan that established the percentage of 'protected land necessary to protect the aquifer."
These contentions are vehemently contested by former councilwoman Bonnie Conner, who says, "There is a plan for the purchase of the land, and they know that." Conner adds: "There are bills in the state legislature that could have a detrimental effect on the aquifer. With the projections about population growth, we have to have a plan for our future."
"San Antonio is the largest city in the United States to receive its drinking water exclusively from the aquifer," says Jaymie Balboa, the Hispanic Chamber's vice-president of government affairs. "Water is our main resource in this city, and we need to protect our quality and quantity of water, which is why we support the sales tax increase. We feel very confident that the proponents of the Edwards Aquifer will use every dollar of the $90 million justly so to purchase as much land as they possibly can."
Proposition 2, like Prop 1, is an extension of a sales tax increase approved by voters in 2000. It seeks to raise $45 million to buy open space for a linear park system within city limits, and was consciously separated from Prop 1 to insure that a park system would not be shortchanged in funding. Nonetheless, the plan is connected to Prop 1 in the sense that if both measures pass, they would split the 1/8-cent sales tax increase. If only one passes, it would have the tax increase to itself.
Inevitably, it tends to get overlooked in relation to the contentiousness of Prop 1's debate over the aquifer. For example, the Hispanic Chamber, which strongly supports Proposition 1 and opposes Proposition 3, has refrained from taking a position on Proposition 2. While SA's Chamber of Commerce criticizes what it calls the "lack of a detailed plan" for both acquired and not-yet-acquired land, former mayor Howard Peak has led the drive to bolster what he perceives as a glaring area of concern for the city. •