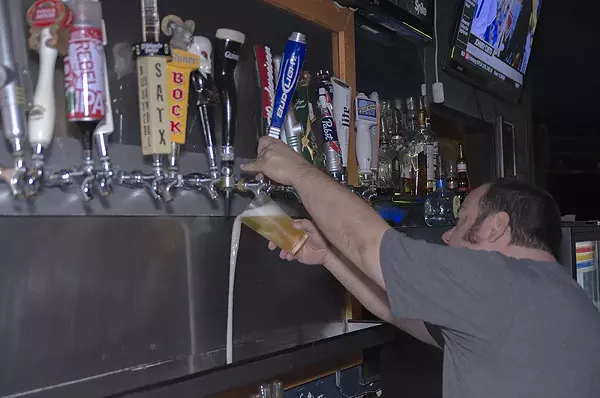 Jaime Monzon
Time for another bar crawl trifecta.
As much as I love the (sort of) recent surge of fancy cocktail bars — and Lawd knows I love me a good cocktail — sometimes I just want a beer. Or maybe Malibu and pineapple. I want to wear a baseball cap and a wrinkly tee shirt that was balled up on the floor for a few days prior and eat bar snacks that make me feel slightly ill the next day. But most of all, I want to find the best dive in San Antonio. Here, my journey begins with Thursty Turtle, Boozehounds and Me and CA Karaoke. Come along.
Thursty Turtle
1626 NE Loop 410, (210) 820-3600, thurstyturtle.clarksbars.com
Setting: Settled in a tiny strip mall off Harry Wurzbach, the Turtle is in the perfect area to find yourself after eating dinner with Captain Jack Sparrow at the Magic Time Machine. When you exit, be sure to quickly move to the right lane ... I almost missed the entrance to the parking lot. Then saddle up for pseudo beach vibes at the Thirsty Turtle. It doesn't look like much on the outside, but it's actually quite spacious. As you walk in, try not to bump in to the island bar too close to the door. Take in your surroundings: pool tables to the right, lounge style couches to the left and the bartender's tight man jeans in the middle. There is an internet jukebox as well so you can play "Kokomo" while taking in a hockey game on one of the many TVs (I didn't realize anyone down here watched hockey but it was on, so ...).
When Is Beer Cheapest: Well it was hella cheap for me because some friendly people at the other end of the bar got me shots and the overly flirtatious bartender got my beer for me. So beer is cheapest when you are friendly and sitting by yourself.
Fellow Bar-Goers: Everyone was so nice. Wide range in age, too. They're just a bunch of regulars in ball caps and shorts that were down for a chill good time. One guy told me the weekends make for good people watching because girls from The Palace will go in after work. Noted.
Activities: Darts and pool to be found here along with a popcorn machine in the front. Because who doesn't like old popcorn after a few Starfuckers?
Why It's Great: The people in the bar make the place. Any joint where I am cheered to dance out the door is where I want to be.
Boozehounds
8531 Perrin Beitel Rd., (210) 590-3223
Setting: Across Loop 410 in another strip mall you will find this massive bar. Walk in and you will find a stage for live music on the left — the kinds of bands that play were described to me as "stuff you would hear on 99.5 KISS" — along with chingos of pool tables to get your ball on. The back of the bar is reserved for a few electronic dartboards where evidently you can play with players from around the world via a creep cam at the top of the board.
When Is Beer Cheapest: It's pretty cheap all the time. Also, free pool on Sundays!
Fellow Bar-Goers: Definitely a blue collar sausage fest. There's lots of loud yelling at the Vikings/Steelers game on the TVs above the bar. My favorite overheard phrase was "don't tell my wife I poured whiskey into your mouth the other day."
Activities: Pool for days and a few of those fancy dartboards. They also serve food here — a variety of egg rolls, taquitos and pizza.
Why It's Great: Solid place to eavesdrop. Friendly staff. Egg rolls.
Me and CA Karaoke Bar
8373 Perrin Beitel Rd., (210) 590-6322
Setting: Directly on the other side of the overpass you will find this bar in — you guessed it — another strip mall. Don't listen to your GPS on this one because it took me out of the way for no reason. It was the least-friendly and least busy bar I had been to yet. Four people gave me weird looks and the bartender seemed generally annoyed.
There is very little décor and it was way too bright. No karaoke on Sundays ... or maybe they have it all the time but nobody was feeling it? Either way, silence is awkward.
When Is Beer Cheapest: Sunday Funday seems to be the time: $2.75 wells/domestics, $3.25 imports and $4.25 calls all day long.
Fellow Bar-Goers: The four other people in the room with me were average-looking 30-somethings.
Activities: A couple of pool tables and a sizable karaoke set up so you can belt out Whitesnake to your heart's content and feel like a rock star.
Why It's Great: It's close to other bars, so after you get hammered at other places you can head over here for cheap brews and belt out the hits with your squad.