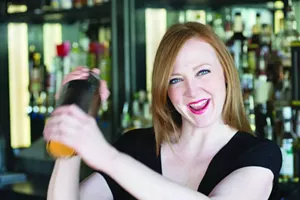 Elisabeth Forsythe
Barbaro
2720 McCullough Ave.
(210) 320-2261
barbarosanantonio.com
Labeling Forsythe a pro is a bit of an understatement. The 14-year service industry veteran took the reins of the Barbaro cocktail program a year ago and thoroughly made it her own. There's something for all levels of cocktail lovers on her menu – The Good made up of lighter styles, The Bad filled with sneakily addicting and boozy potions and The Ugly for when you're not fuckin' around. Though she's amassed a small set of femme fatale apprentices, this culinarian sets the tone for her cocktails by creating infusions, sodas (the vanilla-lemon is pretty tight with gin of choice) and shrubs to her taste. There's nothing like ending the work week with her Slow Grin Fizz, a nod to "simpler times and soda shops," which combines reposado, chocolate syrup, cream, egg white, acid phosphate and soda for a special treat. The other woman behind the bar we're applauding has carved out a niche within a veritable boys club. Hillary Woodhouse of The Brooklynite is adding finesse to the Tiki Tuesday menu, while also earning a second place win during this year's Rivertini with a concoction of vodka, watermelon-infused Cocchi Americano, rosemary syrup, lemon and a yellow bell pepper slice. Meanwhile, David Naylor's gaining many fans with his floral and boozy porthole cocktails.
HONORABLE MENTIONS:
Hillary Woodhouse
The Brooklynite
516 Brooklyn Ave.
(210) 444-0707
thebrooklynitesa.com
David Naylor
Park Social
218 E. Olmos Dr.
(210) 822-0100
park-social.com