Beer dinners, considered a
major food and drink trend
by chefs polled by the
National Restaurant Association
, are getting more buyin from restauteurs in San Antonio. This week, the folks at
Westin La Cantera Resort
are trying their hand at what they hope will be a regular thing.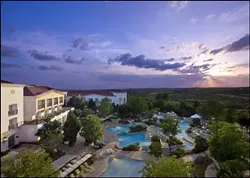 On Friday, May 27, Westin La Cantera chefs Isaac Cantu and Henry Wesolowski bring a lineup of mouthwatering food to pair with the Shiner beers from the Spoetzl Brewery. The food speaks for itself. And apparently it has a lot to say based on the number of words used to describe each dish, so you can read the full menu and beer pairings at this link.
I'm particularly interested in the pairing of smoked bacon oyster mushrooms with a Deep Ellum Blue melt paired with Shiner's new summer seasonal Ruby Redbird, a lager made with the addition of grapefruit and ginger.
Tickets are $45 plus tax and gratuity and can be reserved at (210) 558-2305.
Brasserie Pavil continues its monthly beer dinner tradition June 7 with creations from Chef Rene Bajeux paired with beers from Sierra Nevada Brewing Co.
You can read the full menu at this link, but take note of the interesting dessert pairing of the highly-hopped Bigfoot barleywine-style ale with chocolate banana fluff panini.

I'm intrigued with how those flavors will play off one another. It has only been recently that even pro beer and food pairers would dared big bitterness with dessert, but it seems only natural because the intent of hops is to balance the sweetness of the barley malt used in making beer.
Tickets are $49 plus tax and gratuity and can be reserved by calling (210) 479-5000.
Let me know if you attend and drop a comment on the Bottle & Tap blog on your favorite pairings.
Prosit!
Travis E. Poling