Photo credit: Frank Maddocks
Just some bros that like brews.
Listen to this shit.
You know all those times you were nodding hard (fuck it, maybe even thrashing, but, like, with finesse) to your favorite Deftones' song, and that metal medicine was so aqueous that you thought you could taste it? Well, now you really can.
You can, that is, if your favorite Deftones' song is (for some reason) "Phantom Bride" from the seminal nu-metal band's recently released eighth studio album
Gore
. Perhaps it would have been too much to ask to have a "
My Own Summer
Kolsch" or a "
Cherry Waves
Lambic," or even a "
Knife Party
Imperial Red Stout."
Instead, thanks to the efforts of San Diego's
Belching Beaver Brewery
, we have the "Phantom Bride IPA" to anticipate and subsequently consume in copious quantities, while supplies last. The new brew is set to hit retailers on October 3, so perhaps the choice of "Phantom Bride" for the namesake has something to do with the Halloween season.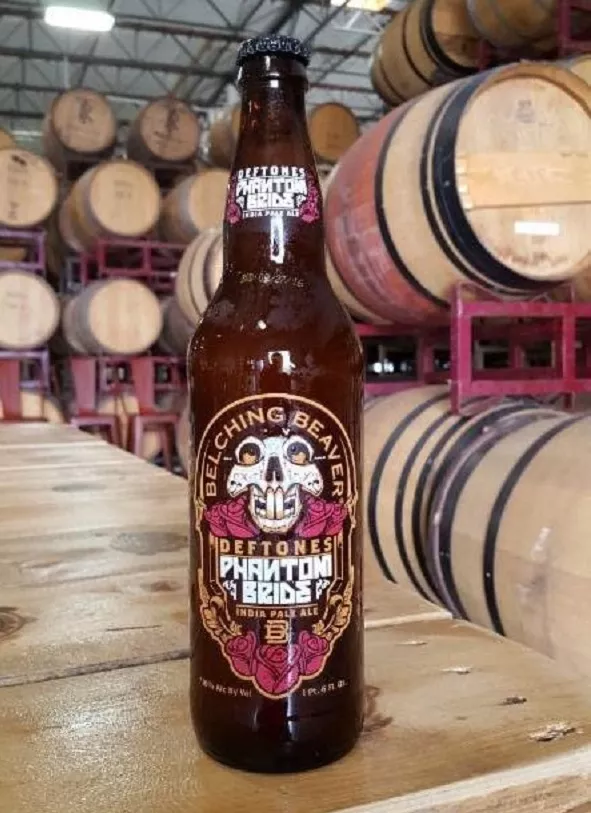 Belching Beaver Brewery's "Phantom Bride IPA"