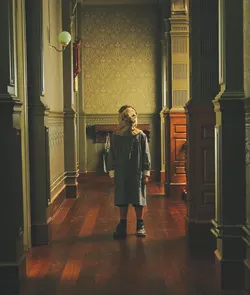 (Dead) kids in the hall: A ghost haunts El Orfanato.
El Orfananto (The Orphanage)
Director:
Juan Antonio Bayona
Screenwriter:
Juan Antonio Bayona
Cast:
Belen Rueda, Fernando Cayo, Roger Princep, Montserrat Carulla, Geraildine Chaplin
Release Date:
2008-01-09
Website:
http://www.TheOrphanageMovie.com
Rated:
R
Genre:
Horror
See, if people would just watch the classics, shit like this wouldn't happen.
Ex-orphan Laura (Belén Rueda) and her pragmatic-doctor husband Carlos, having purchased the orphanage/cavernous-ass old house where she once lived, move in with their curly-headed, apple-cheeked, big-brown-eyed bug of a kiddo Simón, intent on reopening the place as a haven for disabled — you got it — orphans. Sounds do-gooderish enough, yeah? Yeah. And for a (short) time, everything seems to be going very well. I mean, sure, Carlos and Laura have a secret or two, but what well-adjusted family (in a horror flick) doesn't have a couple of catastrophic, unconfronted truths seething just below its picture-perfect veneer? Pshaw. And sure, little Simón's got a few imaginary friends, but what well-adjusted kid — oh. Oh, shit. Never mind. You guys are boned.
For the record: If, as a fictional character, you should ever find yourself in anything even approaching a supernatural thriller, and your kid starts talking about imaginary friends and scrawling weird shit in crayon, don't even bother packing. Just haul 'im headlong out the front door and try to make friends with any priest not currently having a crisis of faith/dealing with a dead mother/into archaeology and try to stay breathing until that slow-zoom-out helicopter shot of the station wagon on the highway. Seriously, man. Before the house implodes.
Juan Antonio Bayona's first feature — which, you'll hear absolutely everywhere, was produced by Hellboy and Pan's Labyrinth director Guillermo del Toro — is a surehanded, solid, visually arresting debut, recently announced as Spain's official nominee for the Best Foreign-Language Oscar. Perhaps more important here: It's freakin' creepy. Creepy in that enduring, slow-burn way that jump-scare purveyors such as The Descent and empty stunt-horror like Saw just aren't. The reason? Patience, writing, and depth of character. Screenwriter Sergio G. Sánchez has crafted a tight, clever, nearly devastating little puzzle, but we're too invested in its characters to spend time trying to forcibly unravel it; we're content to let the mystery unfold naturally. Rueda's palpably desperate Laura is a character for whom we care deeply. She's Rosemary. She's Chris MacNeil. Nine-year-old Roger Príncep's performance, meanwhile, is impressively natural; indeed, there's not really a weak link in the cast (which, interestingly enough, includes Geraldine Chaplin as a frail, if vaguely-Ms.-Baylock-looking medium).
There's a moment near the end where the Bayona and Co. very nearly leave us with what had the capacity to be one of the most merciless endings in horror history (I still haven't decided if I'd've been imbued with respect or simply appalled), but then soften matters substantially — and manage, somehow, to turn immediatedly sweet, giving us instead what must be the most heartwarming tale ever about Peter Pan, suicide, and spectral special-needs orphans. The ending left me satisfied, certainly, but wondering a bit. This mild ambivalence, one sack-headed kid, and one or two telegraphed scares are my only iffy spots about what's one of the the best straight horror flicks to come along in years. Not necessarily groundbreaking, but very, very good.
El Orfanato's effectiveness as horror is linked closely to its strength as a film in general. Sounds uncomplicated, perhaps, but it's truly a rare and welcome confluence. Instead of trying to make a Successful Scary Movie, the filmmakers seem to've decided to tell, simply and artfully, a compelling story that just happens to scare the pee out of you. •
El Orfanato (The Orphanage)
Dir. Juan Antonio Bayona; writ. Sergio G. Sánchez; feat. Belén Rueda, Fernando Cayo, Roger Príncep, Montserrat Carulla, Geraldine Chaplin (R)