Thu 4/6 - Fri 4/7
"Mid-Century Crisis"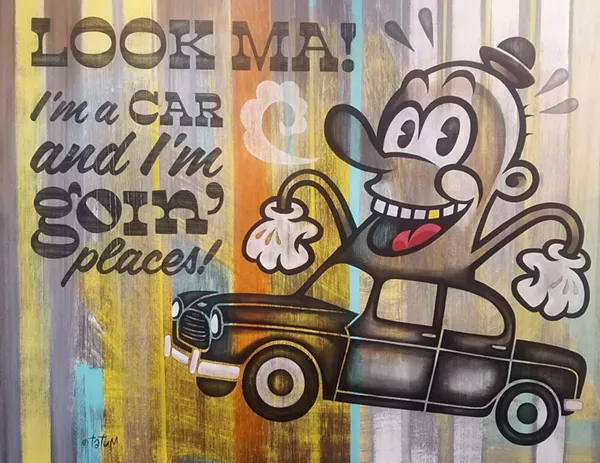 As proprietor of the Blue Star emporium Choice Goods Gallery, California transplant Robert Tatum has emerged as a champion of San Antonio's offbeat creative class, introducing scenesters to the likes of sci-fi illustrator Mike Fisher and patchwork-obsessed fiber artist Michele Morrill. While his own street-smart aesthetic can be seen quite literally all across town in the form of murals (from Ace Mart Restaurant Supply in Southtown to Mellow Mushroom in Stone Oak), signs (his "OK Monkey" at The Luxury is a favorite along the Museum Reach), and T-shirts on fans (screen-printed with everything from a puppy prepped to take a bong hit to a bird plucking one of its eyeballs out), Tatum hasn't had a solo show in years. Riffing on the fact that he now has five decades behind him, the Southtown fixture's come to terms with a "Mid-Century Crisis." The product of "philosophical and spiritual retrospection," his new series of paintings promises something of a "visual self-portrait" informed by nostalgia and analysis alike. Hosted by his recently established Blue Star venture ShowDown Gallery, the exhibition opens Thursday, followed by a First Friday reception featuring live music by Dolphin Dilemma.
Free, 6-9pm Thu, 6-11pm Fri, ShowDown Gallery, 1420 S. Alamo St., Suite 103, (210) 441-8491, tatumoriginals.com.