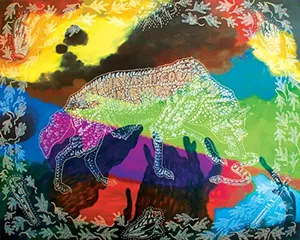 OUR PICK: Ruiz-Healy Art
, 201-A East Olmos Drive, (210) 804-2219,
ruizhealyart.com
It's probably worth pointing out that there are several important destinations within the San Antonio art scene that don't quite fall within the confines of a "gallery." For instance, Artpace, Blue Star Contemporary and the Southwest School of Art all contain galleries but also don't identify as museums (Blue Star did for a period but pointedly dropped the "m" word from its name last year). While we're crazy about many of the DIY and artist-run galleries throughout Southtown and beyond, there's something undeniably special about Ruiz-Healy Art. Opened in 2013 in the heart of Olmos Park, Patricia Ruiz-Healy's gallery emphasizes "a Latin American, borderland, and Texas discourse" through impeccably presented exhibitions that have showcased both international icons like revered Mexican photographer Graciela Iturbide and a thoughtful assortment of local and regional contemporary artists — including Jesse Amado, Ethel Shipton, Nate Cassie, Margarita Cabrera, Fernando Andrade and Julie Speed.