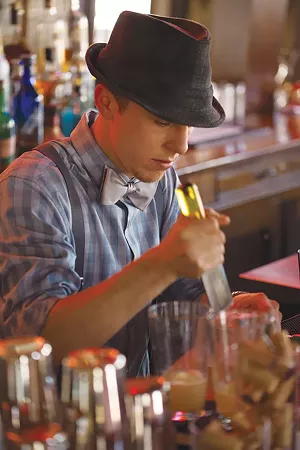 Andy Hack, Minnie's Tavern & Rye House
328 E Josephine, (210) 220-1890, twitter.com/ShakeStirChip
The best bartender is not the one with the sexiest shake, the coolest vest or the baddest tattoos; the best 'tender is the one who can read your mood, interpret your desires and deliver a drink to match: mixologist meets psychologist. Recently, several unsung youngsters have impressed—among them, Andy Hack. Hack, previously of that cocktail incubator Bohanan's, has the enviable job of riffing on rye at Andrew Weissman's latest restaurant (where he's also required to know the food menu inside out). Tasked with taking off on a Negroni, he also delivered. Expect exotic bitters, such as the El Guapo Chicory Pecan that spikes the Chic-Choc Old Fashioned with Prichard's Double Chocolate Bourbon. And, as Hack and a partner are also kickstarting an ice company to supply crystalline slabs, spheres, spears and big-ass cubes, expect to see that, too. This is only the beginning—including more inevitably cutsey drink names.