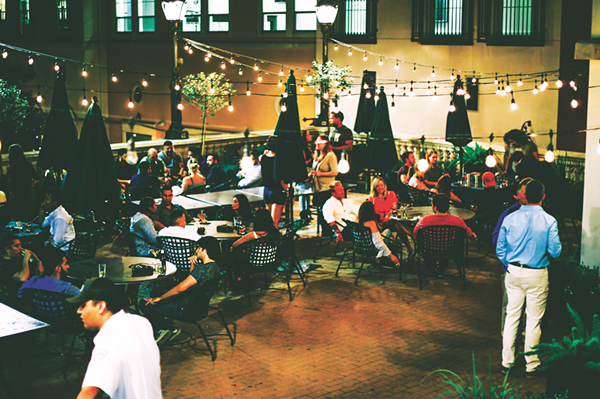 Some of the best moments in college are the ones you don't spend studying. When you find you finally have an entire day without homework, and you can't possibly binge-watch another series, it's good to have somewhere to escape and get together with friends who share the stress of student life. With no shortage of university and college campuses, San Antonio is home to an increasingly large student population. And it's no accident that the Alamo City boasts an abundance of campus-convenient bars and hangouts that offer happy hour prices and daily drink specials tailor-made for college wallets. Whether you're a freshly minted 21-year-old or a perpetual student who enjoys turning 21 every couple of years, dig this list of bars and chill spots for days and nights of homework-free fun.
UTSA Main Campus

The Block SA
14530 Roadrunner Way, (210) 690-3333, facebook.com/theblocksa

Whether you're looking for food, drinks or entertainment, The Block SA has it all. Located right outside of UTSA's main campus grounds, The Block is a popular hangout for students, offering daily drink specials and a variety of tasty treats from several local food trucks. With an ice-house type feel, The Block consists of a large grassy lawn and 1,500-square-foot covered patio. Challenge your friends to jumbo Jenga or cornhole after a long day of classes and studying. Plan to watch your favorite major sporting events on The Block's multiple large screens, or take a break from the textbooks to celebrate Sunday Funday. Family- and pet-friendly, The Block SA is an ideal spot to make new friends of hang with your gang.
Hills and Dales
15403 White Fawn Drive, (210) 695-2307,
facebook.com/centeroftheuniversesatx

Under the new management of Justin Vitek and Mike McMillan, owners of downtown's On the Rocks Pub, Hills and Dales now has a friendlier feel to it, catering to more diverse crowds. The ice house offers a large outdoor deck, as well as a roomy interior. Play pool with friends or brave the Texas weather with a cold drink on the patio. Daily drink specials are perfect for a student budget, but you'll find all sorts of people at this "center of the universe," making it the perfect place to meet new friends.
George's Keep
17101 La Cantera Pkwy., (210) 310-3733, georgeskeep.com

If you're the speakeasy type and dig a dark atmosphere, eclectic crowd and carefully crafted cocktails, George's Keep is the spot. Nestled in the terrace level of a sprawling resort, George's is known as the area's best-kept secret. The bar's large wooden front door looks like something straight out of Middle Earth. George's attracts all sorts of patrons from traveling white-collar execs and vacationing hipsters to restaurant industry workers, students and local residents. If you're on a budget, don't get discouraged — George's hosts happy hour daily, with all-day happy hour on Sundays and Mondays. George's dark atmosphere is well accented by mood lighting, making it a great place to take a date that's far more refined than the boisterous antics of clubland.
Sapporo
5638 W. Hausman Road, (210) 314-4423, sapporosa.com

There comes a time in every college student's life where you begin to expand your food palate. This pivotal time is perfect for experimenting with foods from other countries and cultures. Sapporo has been catering to the UTSA main campus community since 2012, offering Japanese/Korean fusion plates and smartly priced sushi rolls. Take a break between classes and grab a bento box lunch special, or end the long day with a sake bomb. Sapporo blends Asian decor with modern colors, stylish lighting and pan-Asian favorites. A perfect spot for getting lunch with friends or a quiet dinner date, Sapporo will be a popular destination for students for a long time to come.
PK's Pub and Grub
8338 N. Loop 1604 W., (210) 354-7473, pkssports.com

Starting as a small undiscovered sports pub and grub, PK's has recently gained a large following of regulars. Well-known for their daily drink specials catering to the student community, PK's has become a staple of the UTSA Main Campus area. Decked with signs from former bar establishments, the spot offers a bit of an aesthetic potluck. However, PK's is an awesome place to watch the Spurs, football, or any sports event, with large flat-screens lining the entire bar. PK's offers a small and simple menu of standard American fare, but the wings and pizza are the kitchen's specialties. And, most importantly, PK's delivers quick service and student-priced drinks that won't break the bank.


Luthers, photo by Jessica E.
Trinity \ SAC \ UIW\UTSA Downtown Campus
Niki's Tokyo Inn
819 W. Hildebrand Ave., (210) 736-5471, facebook.com/nikis.tokyo.inn

On the outside, Niki's Tokyo Inn looks pretty weathered and nondescript, but one step inside and you're wondering where in the world you've been transported to with its warm atmosphere and beautiful Japanese décor. "Western or Japanese style dining?" That's the first question you'll be asked when entering this San Antonio institution. Leaving it to the diner's choice, Niki's not only offers the tables and chairs we are all accustomed too, but you can also sit in the Japanese traditional style that involves taking off your shoes, tucking them away into cubbies and sitting on cushions around a short tabletop. The lighting is on the dim side, and several of the dining areas are semi-private — perfect for discussing a project with class mates or a date with someone special.
Candlelight Coffeehouse
3011 N. St. Mary's St., (210) 738-0099, candlelightsa.com

Candlelight Coffeehouse is an ideal student hangout with an ambiance that suits study parties, special events, or a chill night with a few friends. Got a paper to write, but don't want to be locked up in the dorm? Candlelight offers free wifi, a full menu, and more than 60 wines and beers to choose from — making it a perfect place to take your laptop and work on assignments while sipping a craft coffee, glass of wine or a bottle of beer. Make your group projects feel less like work, claim a cozy sofa and get lost in a book, or bring a group and make a night of it. Candlelight also hosts weekend brunch Saturday and Sunday mornings, happy hour from Tuesday to Friday, and 50 percent off bottles of wine every Wednesday.
Luther's Café
1503 N. Main Ave., (210) 223-7727, lutherscafe.com

Right at the edge of San Antonio College lies a true staple of the Alamo City — Luther's Café. Established in 1949, Luther's is a classic diner with updated fare and contemporary accents. The establishment is cheerfully bright and they play the music to match. What's awesome about Luther's is that they have something going on almost every day of the week. From "Jazz Hangover" brunch on Sunday and "Margarita Madness" on Thursday to "Karaoke Fridays" and "Dinner and a Show" Saturdays, Luther's is the perfect escape from homework any night of the week. Enjoy a burger between classes, hone your skills at "Luther's Got Talent" on a Monday night or karaoke your student stress away by belting out Pink Floyd's "Another Brick in the Wall" after a long week of tests and quizzes.
Drink Texas Bar
200 Navarro St., (210) 224-1031, drinktexas.com

The downtown location of Drink offers a winning blend of sophistication and comfort — not too upscale, but not a dive either. Drink's famously long happy hour runs from 2-7 p.m., which means you can squeeze in an early evening of drinking and also wake up in time for that absurdly early class you regret registering for. Besides happy hour, Drink features daily specials and tends to draw in quite the crowd. Pro tip: Drink makes for a great escape from the touristy chaos of the nearby River Walk.
Sparky's Pub
1416 N. Main Ave., (210) 320-5111, sparkyspub.com

This "Gayrish" pub is a local LGBT favorite and home to some of the best drink specials in the area — exemplified by Way Back Wednesdays, an '80s-themed night boasting budget well drinks for only 80 cents. Sparky's also attracts a nicely mixed crowd with one of the Main Strip's longest daily happy hours, ranging from 3-9 p.m. most weeknights and 3-11 p.m. on the weekends. While there's a cozy back patio equipped with a full bar, Sparky's doesn't technically have a dance floor — but that doesn't keep folks from dancing along to music videos on weekend nights. Like many bars in the area, Sparky's serves up hard-to-pass drink specials in an upbeat atmosphere and hosts themed parties open to all walks.
St. Mary's University
Brass Monkey
2702 N. St. Mary's St., (210) 480-4722, facebook.com/brasmonkeytx
Closed Monday through Wednesday, Brass Monkey is a popular weekend destination known for its budget libations, buzzy patio and often-packed dance floor. Each night holds its own theme and ridiculously cheap drink special, $2 wells on "Thurzgayz," $3 Dos Equis on '80s Friday nights, $2 cherry vodka sours on new-wave Saturdays and $2 anything (seriously, anything) on H.I.P. '90s Sundays — and there's never a cover. Dress to match the night's theme, or any other way you want — pretty much anything goes here.

The Pub
One Camino Santa Maria, (210) 436-1300, stmarytx.edu
Right at the heart of the St. Mary's University campus is The Pub, a restaurant and bar serving pizzas, bites, beer and wine. After 25 years of being a dry campus, St. Mary's re-opened the establishment that originally debuted in the 1970s. The Pub is perfect for on-campus residents. A short walk from the dorms, The Pub is a no-brainer for on-campus students as there's no need to Uber to get there. This unique spot maintains a classic academic atmosphere that lends itself to game and trivia nights hosted several times each semester. Another benefit of a pub on campus: Group meetings don't always have to be held in a stifled room at the library.
Time Out Sports Bar
719 N. General McMullen Drive, (210) 437-2656
If you're a sports fan in the St. Mary's area you've probably heard of Time Out. The patronage may be slightly older than the average student, but the drink specials are great and the bartenders are attentive and friendly. Time Out is a great place to watch a Spurs game, as the locals come out to support their team dressed in silver and black, blending the room together and creating bonds between all age groups. If you're looking for a place to have a few drinks and watch sports, Time Out is not too far from campus and offers a casual atmosphere suitable for students.
El Colegio
112 College St., (210) 518-1000, omnihotels.com

Occupying a former St. Mary's School of Law library, El Colegio is a stylish bar located inside the Omni La Mansión del Rio. The décor is reminiscent of the Prohibition era, with delicate lighting and dark hardwood floors. Needless to say, El Colegio is pricier than most student chill spots, but the cocktails are carefully handcrafted, the spirits are Texas-based, and the ambiance is simultaneously sophisticated and relaxed. Offering happy hour 3-6 p.m. Sunday through Thursday, El Colegio makes for an intimate date night or a cozy hideaway when you need a break from the word-slurring drunks at the dive.
Joey's
2417 N St Mary's St., (210) 733-9573, facebook.com/joeyssanantonio

Joey's is the kind of spot you go to kick back with a drink, pool stick in hand, enjoying the company of the crew and passing the time with some friendly competition. If you're alone, mosey up to the bar to talk to one of the several friendly bartenders on staff. A perfect place to meet new friends, Joey's tends to attract a fairly broad cross section of folks — including lots of regulars who depend on it for solid drink specials and tasty pizza. Fun fact: Joey's is "the original birthplace of Blue Star Brewing Co."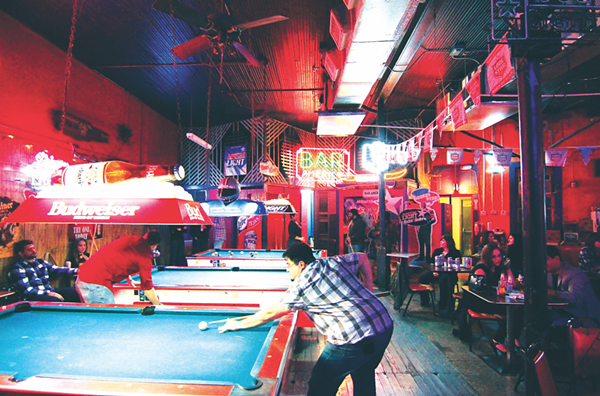 St. Phillip's
Liberty Bar
1111 S. Alamo St., (210) 227-1187, liberty-bar.com
A Southtown favorite that attracts a little bit of everything, Liberty Bar is a tried-and-tested restaurant and bar housed in a restored convent. The food menu is eclectic, encompassing both classic American fare, Mexican-inspired favorites, house-made pasta and deserts, and brunch on the weekends. While specialty cocktails and certain menu items fall outside the traditional student budget, daily happy hour 5-7 p.m.) means $4 wells and house wines, $2 off drafts, and half-priced appetizers. Come 10 p.m., reverse happy hour kicks into effect with ever-popular half-priced pizzas and the same boozy discounts as happy hour. Open until midnight, Liberty makes a great starting point for nights out in Southtown.
On the Rocks Pub
270 Losoya St., (210) 228-0000, ontherocks.pub
The same management team that now owns Hills and Dales in the UTSA Main Campus area started out with this location in the heart of downtown. Don't let its fairly hidden location fool you, everyone knows about On the Rocks, and everyone will be there — especially on the weekends. Like your average sports bar, pool tables and dart boards line the space. The long bar accommodates plenty of seating and screens are tuned into sporting events. On the Rocks has monthly and daily specials, as well as themed events like karaoke on Wednesday nights. Live music is performed on the weekends as well as a late night DJ. Lots of room to dance the night away on those late night that get away from you.
The Friendly Spot
943 S. Alamo St., (210) 224-2337, thefriendlyspot.com
As the name suggests, The Friendly Spot is a friendly neighborhood icehouse catering to the entire community. With a selection of over 300 beers, 76 taps, and wine cocktails to choose from, there is something for every palate. Open noon to midnight every day of the week, the bar offers specials on different craft brews daily. Absent of hard liquor, the outdoor ice house allows children and pets to enjoy the open-air establishment (there's even a kids' playscape on the grounds). Filled with old-school picnic tables, The Friendly Spot is an excellent place to hang out with a large group of friends, play a few rounds of cornhole or sip a cold one in the super-relaxed environs.
Bar America
723 S. Alamo St., (210) 223-1285, baramericasatx.com
The local college crowd loves divey and eclectic Bar America. The drink specials are affordable, the grub is satisfying and there's always a great tune on. Not to mention, it's far from fancy so you enjoy a casual night out without the hassle of dressing up. Serving up craft San Antonio and Texas beers along with margaritas and other mainstays, the Southtown institution offers a 24-tap system for cold brew pours, plus happy hour Tuesday through Saturday (4-7 p.m.) and reverse happy hour on Thursdays (11 p.m.-2 a.m.). Regardless of how busy it often gets, service here is always reasonably quick.
Alamo Street Eat Bar
609 S. Alamo St., (210) 227-2469, alamostreeteatbar.com
Alamo Street Eat Bar is a great place to get a bite before a night out downtown with the crew, or better yet, after a night out with the crew. The open-air food truck park maintains a fairly diverse selection of mobile food vendors that provide fairly priced, quality eats and a small selection of draft beers. Draped with lights, dotted with outdoor tables and open until 2 a.m. on Fridays and Saturdays, the self-billed "urban gourmet food truck park" pulls in varied crowds with varied cravings — everyone loves a midnight