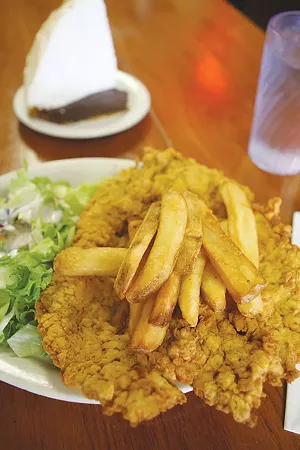 1. De Wese's Tip Top Café
8214 Fredericksburg, (210) 732-0191, tiptopcafe.com
The trusty, musty Tip Top has been serving up down home cookin' since 1938. Things don't change much around the wood-paneled dining room, not the decor, the ancient waitresses, or the menu, in which the lone appetizer is vegetable soup. Bless their hearts, it suits us just fine. Firstly, ain't nobody need an appetizer when ordering the chicken-fried steak entrée. It might not qualify for a Man v. Food challenge, but it's still bigger than your face. Secondly, the steak's expertly battered and fried: golden and crispy on the outside and meaty and tender on the inside, and served atop a reservoir of perfectly peppery cream gravy. While a lot of indulgent food coasts by on its jaw-dropping calorie count alone, this country-fried slab of delight is worth every mile you'll run, swim, or bike to work it off.
2. Lulu's Bakery and Café
918 N Main, luluscafeinsa.com
3. Bud Jones
1440 SW Military, (210) 977-9161, budjonesrestaurant.com