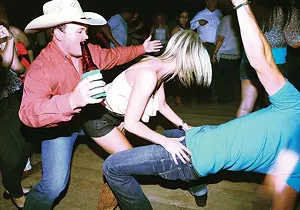 1. Cowboys Dancehall
3030 NE Loop 410, (210) 646.9378,
cowboysdancehall.com/san-antonio
Cowboys Dancehall has all the making of an 'untz untz' kind of club, except instead of Skrillex and Swedish House Mafia, they blast Randy Rogers and Miranda Lambert. This is the place to be if you feel like wearing your cowgirl boots, putting away some Shiners, and riding the mechanical bull into the sunset. Cowboys Dancehall hosts a variety of events, from pop country superstars in concert to a weekly teen night and dance lessons for those feeling boot scoot-deficient. There are plenty of bars scattered about this enormous venue, and more often than not it's packed with honky tonk people just trying to have a honky tonk time.
2. Thirsty Horse Saloon
2335 NW Military Hwy,
(210) 348-1513,
thirstyhorse.net
3. Wild West
Encino Commons, 21025 US 281,
(210) 496-9453,
wildwestsanantonio.net