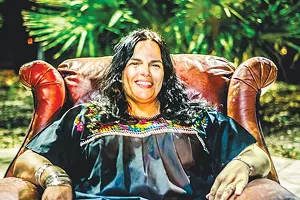 Roberta "Nina" Hassele, CAM co-chair
facebook.com/ninafrombrooklyn
In a city with an art scene as inclusive as San Antonio's, maybe it's counterintuitive to single out one person as worthy of this title. Plus, what's a maven, exactly? Well, Nina Hassele is a damn good example. The Brooklyn native and passionate San Antonio convert is co-chair of Contemporary Art Month, for starters, and instrumental in organizing the horde of events, calendar entries, venues, volunteers, patrons and celebrations during SA's annual month-long extravaganza. Her meticulously maintained Facebook feed is more informative and diverse than the arts sections of some major publications. She's a tireless, unpaid, year-round promoter of exhibitions and performances, Kickstarter campaigns, art spaces, theater events and live music. She's relentlessly cheerful, too.