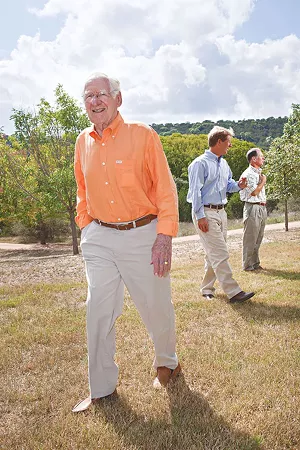 1. James Avery (Quarry Market)
255 E Basse, (210) 822-0048, jamesavery.com
Growing up in San Antonio, the James Avery charm bracelet, first created by Avery (left, with sons) in nearby Kerrville, was every tween girl's dream. We got sterling silver charms for all kinds of achievements – playing a sport, making the play, joining the choir or band, getting good grades, as well as birthdays, confirmations, anniversaries, Christmas — all in the same distinctive, flat James Avery style. Upon arriving at the quiet, warm JA shop in the Quarry Market, despite the decade separating us from our last Avery bauble, we made a beeline for the charm section. Charms can now be had to document your love for sweet tea, lighthouses, cupcakes, and flip-flops. Of course, James Avery also makes necklaces, rings and earrings, in gold, copper, gemstones, and leather. Mother's Day is right around the corner, and the jeweler offers dozens of ways to make your mom feel special. Dig out your old charm bracelet and get an update while you're at it. They never go out of style, trust.
2. Americus Diamond
12362 I-10 W, (210) 561-1000,
americusdiamond.com
3. Peñaloza and Sons
2001 NW Military Hwy, (210) 340-3536, penalozaandsons.com