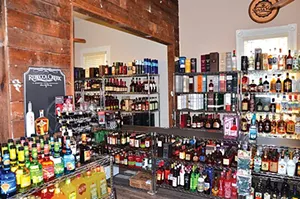 OUR PICK: Pig Liquors
, 519 S. Presa St., (210) 226-6465,
pigliquors.net
Those who remember the days when Pig Liquors was tucked into a colorful little house down on South Presa might get a blast of déjà vu upon entering its welcoming new digs. After a successful run in a commercial strip on South St. Mary's, the homegrown venture Anet Alaniz started five years ago recently made a short but significant hop into a former law office behind El Mirador. On a recent visit, Alaniz was still in the process of making the 1,600-square-foot space her own, but most of the vital pieces were in place — including booze and beer in the front, wine and bubbly in the back and the pig-nose-wearing mannequin Cha Cha La Borracha standing guard over it all. While it might not be the most sensible spot to shop for an epic rager, Pig Liquors speaks loud and clear to San Anto through both its thoughtful selection — from old-school standards like Veuve Clicquot to small-batch products out of Austin-based Texas Saké Company — and creative bells and whistles like artist-made T-shirts, handcrafted cards and whimsical aprons. A bonus allowed by its new location: Pig Liquors now has the ability to host tastings on its homey front porch.