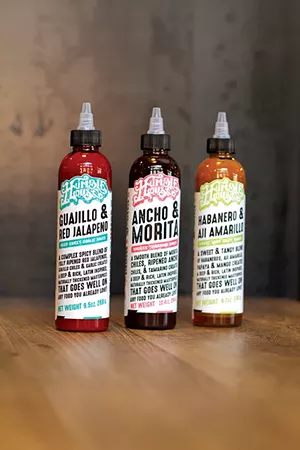 Humble House
Photo by Michelle Claire

OUR PICK:
(TIE)
Humble House Food,
humblehousefoods.com
Wildflower
,
wildflowersa.com
Our first ever stab at best locally made product features something spicy and something sweet. You may already be familiar with Luis Morales' Humble House Foods, an early staple of the Pearl Farmers Market, but Morales and his line of sauces are ready for the big time as they fill shelves at statewide H-E-Bs these days after winning a cool 10K from the grocery magnate. The sauces play to our San Antonian palates with guajillo and red jalapeño, ancho and morita and habanero and aji Amarillo flavors. You'll want to score a trio of mini bottles to keep in your purse.
You'll want to reach for something sweet from Wildflower, a line of caramels made by Ellyn Dixon that feature local ingredients prominently. Try the tequila basil lime, which uses Sierra Vieja tequila or the honey lavender, made with Geyer Farms honey in Moore, Texas. The poppable squares are hand-wrapped by Dixon and her small army of elves.