Turn off your TV
Talk about discouraging: The FCC hearings came and went and not a damn thing has changed for the better. Oops, I mean gosh-darn thing. Newly appointed FCC Chairman Kevin Martin continues sucking up (can we even say suck?) to the religious right by promising to exorcise indecency from the airwaves, shielding us from nipples and lesbians and the word shit.
Jerry Springer



Thank you for your sanitization efforts, Mr. Martin. Now, could you begin ridding the electrons of offensive content by laying to waste all of San Antonio television news?

By definition, high or otherwise, TV's soundbite-driven, sycophantic sapfest is wretched, but SA's Big Four are particularly sensationalistic: WOAI aka "we don't get out of bed for less than a three-car pileup"; KENS aka "invite us to your next home invasion"; KSAT aka "watch our colonoscopy"; and KABB aka "we never met a stabbing we didn't like."

We do miss News 9 San Antonio: Twenty-four hours of blissful local news, with weather on the nines. There was Floyd the Food Guy, who, as it turns out, was not working out of a cramped, chihuahua-infested mobile home off Roosevelt Avenue, but is actually a New York-area chef named Floyd Misek. And if you wanted news, video journalists Meranda Carter, James Lozado, and Lisa Pinto interviewed anything and everything for the daily news cycle. "You want that City Council report at 4:30 p.m.? You got it, just let me set this camera down on this garbage can, adjust my makeup, and I'll do a two-minute wrap-up on the PGA debate."

Best of SA 2005

---
Readers' picks - Best Media
Click here to see our readers' choices

Unfortunately, radio offers few alternatives. WOAI 1200 AM dresses to the right, while Clear Channel's "liberal" programming on 92.5 FM slums it on the left by featuring trashy talk show host Jerry Springer. Springer doesn't speak for the majority of the left, only those who drink Boone's Farm and don't spay or neuter their animals.

If you want to hear intelligent talk radio try Texas Public Radio's KSTX; it's Springer-free and features local and state programming as well as Fresh Air, All Things Considered, and This American Life. Musical adventure lurks left of the dial with college stations KSYM, a deep source for the unknown and underground, and KTRU, whose jazz programming is varied and smart. University of the Incarnate Word's Internet-only station KUIW launched last month, so it can't qualify for the Best of until next year. After a few listens, just a word of advice: Please avoid oldies and Top 40; the dial is riddled with stations eager to play '70s relics and today's vapidness.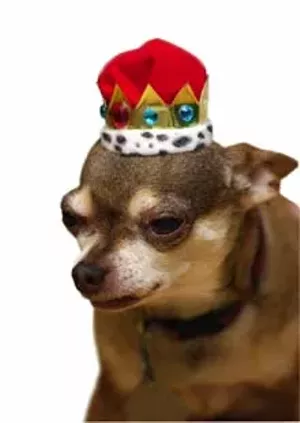 "Grrrr... Too many lame jokes make me want to bite Chris Marrou!"



Speaking of vapidness, why is there so much religious programming on the public-access channel? If you can slog through the hellfire and brimstone, then check out last year's critics' pick, The Maledon Variety Show, (Saturdays at 7 p.m.), a trippy program using puppets that looks through a keyhole to the host's tormented inner world, whether she realizes it or not. Last summer I became addicted to the Lounge Show (Sundays at midnight), a kitschified half hour of crooning. A bespectacled host rocks a tumbler of a brandy-looking substance, perches on a stool, and ululates tunes from "Fly Me to the Moon" to "Wildfire." I think it was "Wildfire." It might have been my beer talking.

Media deregulation hasn't provided me with more choices of cable providers. Some San Antonians can opt between Grande Communications or Time-Warner, but the upstart company, which my co-workers have widely lauded, isn't available in my neighborhood or 75 percent of San Antonio. I want my MTV - through Grande.

In the department of shameless self-promotion: The Current's slick new website is intuitive, friendly to navigate, and easy on the eyes, but when I'm not perusing national news sites like salon.com, commondreams.org, or truthout.org, I'll slide over to the locally generated SAElections.com for one-stop political shopping.

Despite SA's media mediocrity - and we didn't even begin to address the Express-News - there is a small beacon of hope: SA's Media Empowerment Project meets the first and third Wednesdays at 6:30 p.m. at the Esperanza Peace & Justice Center, 921 San Pedro. •