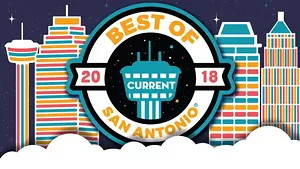 Winner: Rainbow Gardens
Multiple locations
Even if you're not shopping for plants, Rainbow Gardens has something for everyone. Too bad there's no kitchen, since it's a great spot to spend a lunch hour strolling in the shade, posing for selfies, or just watching the antics of resident hummingbirds and Mexican eagles, as we did on a recent visit to the Bandera location. Rainbow is a veritable botanical garden, with some of the wittiest plant signage around ("Because of its vigorous growth," one salvia warns, "cutting back is recommended or MAY GOD HAVE MERCY ON YOUR SOUL.") That said, most everybody visits the nursery to load a cart with potted plants and garden supplies, and here Rainbow consistently offers not only the usual bedding plants but some of the most varied perennial selections in town. They've got water-saver plants, seminars and classes from the pros, too. With locations on Bandera and Thousand Oaks, Rainbow draws visitors from horizon to horizon across the North Side and beyond. This year's runners-up for "Best Plant Nursery" are nothing to scoff at: Milberger's is a powerhouse in local horticulture, with a formidable fleet of landscapers' trucks testifying to its supply of seasonal color, sod and trees. And if you're shopping inside the loop and looking for quiet enchantment, don't miss Shades of Green, with its engaging staff, organic supplies and unique gifts and decor.
2. Milberger's Landscaping and Nursery
3920 N. Loop 1604 E.
(210) 497-3760
3. Shades of Green
334 W. Sunset Road
(210) 824-3772