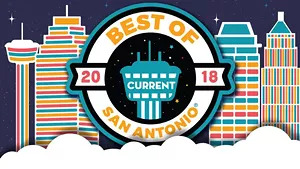 Winner: San Pedro Springs Park
2200 N. Flores, (210) 732-5992, sanantonio.gov
Whether it's the history or beauty, the truly phenomenal tadpole-free public pool has earned its spot as a San Antonio favorite. The pool itself is lined with the biggest shady cypress trees you'll find in the Alamo City and is fed by natural spring water. The park, the oldest in Texas, was originally home to some of the first inhabitants of our city, the Payaya people. They bathed and swam in the water, so even your casual afternoon splash is touched by history. The pool is also centrally located. If you get hungry, you can towel off and post up at one of the many shady BBQ cookout spots around the park. And while the legacy, atmosphere and convenience is great, it is also true that the water is always cool and clean, the most essential elements to any well-respected public pool. And just when you think it couldn't get any better, swimming at this sweet spot is completely free – all you have to do is sign in.
2. Woodlawn Lake
1103 Cincinnati Ave.
(210) 207-7275
3. Alamo Heights Pool
250 Viesca St.
(210) 824-2595