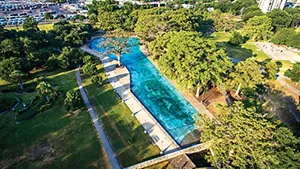 OUR PICK: San Pedro Springs Park Pool,
2200 N. Flores St., (210) 732-5992,
sanantonio.gov/ParksAndRec/
Between the months of June through August, you can expect to find us at San Pedro Springs Park Pool almost daily. When it's 90-plus degrees outside and you break a mean sweat just walking to your car, SPSP is there to the rescue. Though it's only five feet deep, the pool is large enough for families out for a swim, for folks looking to get an aqua Zumba workout and for pre-teens who want to chase each other around the pool all summer long — all at the same time. But more than that, we love San Pedro Springs because it's a place where San Antonio bodies with all sorts of dimples, all levels of farmer's tans, all manners of toned, wibbly, tattooed, scarred, freckled, hairless, fuzzy shapes — are always welcome. One of the oldest natural springs in the country, the former lake-turned-swimming pool is the only place you need to post up this summer.