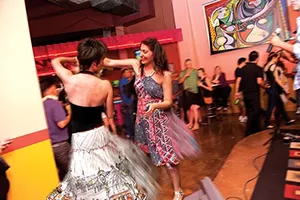 OUR PICK:
(TIE)
Cured
, 306 Pearl Pkwy., Suite 101, (210) 314-3929,
curedatpearl.com
Rosario's Mexican Café y Cantina
, Multiple locations,
rosariossa.com
Give your out-of-town visitors the best of both worlds. Margaritas and cheesy Tex-Mex are a requisite meal when visiting the area, and you can enjoy both with a visit to Rosario's. The restaurant — with locations in Southtown and near the airport — doesn't stop at Tex-Mex either, offering traditional Mexican dishes for all sorts of cravings. Don't pass on the sangria-swirl margaritas, fish tacos, cascabel tacos or paquetes de camaron. But as San Antonio keeps evolving, we've beefed up our food offerings and that's exemplified at Cured where chef Steven McHugh shares his takes on Texan fair with what we can only describe as a casual fine dining twist. Local ingredients shine under the direction of two-time James Beard Award finalist McHugh and his staff. Show off what else San Antonio has to offer these days to your visitors.